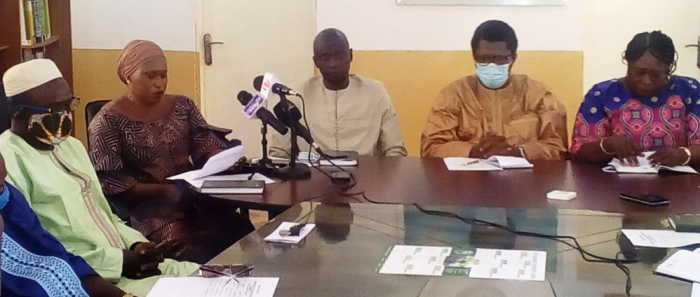 The promotion is the highest in the history of GTU in close to 84 years since teachers were last promoted across all levels, categories, gender and by region.
Essa Sowe, deputy general secretary GTU, speaking at a press briefing held at GTU last Friday, explained that in 2018, they presented data to MoBSE that 550 teachers had been serving for over 20 years and had never been promoted.
He added that the 1228 teachers promoted have received their first promotion salaries.
Out of the teachers promoted, 500 were female teachers.
He further explained that, 302 teachers were promoted from region 1; 542 promoted from region 2; 286 promoted from region 3; 52 promoted from region 4; 92 promoted from 5; and 54 promoted from region 6.
Mr. Sowe added that out of the total promoted, 9 teachers were promoted on Grade 11 salary, while 30 promoted to grade 10.
Sowe, who is also the head of programmes at GTU added that 909 out of the promoted teachers had never been promoted in their lives, having taught between 17 and 22 years.
This he said represents 74 percent of the teachers promoted.
He also said that, 128 out of the 909 that were never promoted were Quranic and Islamic teachers.
Marie Antoinette Corr-Jack, general secretary, GTU said the promotion followed a petition they wrote after realising that a number of their members have not been promoted for a period which was a cause for concern for them as a union.
She thanked teachers for their patience and tolerance endured during the period.
Ismaila Ceesay, president, GTU, said promotion has been one of the biggest hurdles of the sector.
"Many left the system because they felt they have not been treated well, rejected or abandoned because they have not been promoted," he stated, saying to ensure teachers are promoted they have to be proactive.
He said they look forward to more teachers being promoted. He urged teachers to continue working hard and not allow themselves be found wanting in order for us to attain quality education.
Ousman Bah, director of Education, Region One, Ministry of Basic and Secondary Education, said teachers have retired without ever being promoted but were strong, firm and committed.
He assured GTU that they will ensure they never have this backload of promotions in the system again.
Mr. Bah described teachers as the most important personnel in every country, saying they appreciate teachers' efforts.
Read Other Articles In Headlines