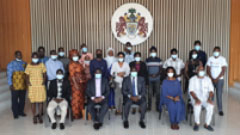 Jokkolabs was the lead consultant on the development of this Web Portal that is supported by UNESCO and managed by the Media Academy for Journalism and Communication (MAJaC)
Delivering his statement, the minister of Information and Communication Infrastructure, Ebrima Sillah, explained that his ministry had the opportunity to work with the Gambia Press Union and the CSOs in the past to initiate consolidated media law reforms in the country and the creation of access to information laws, which is already a law in the country.
"I can assure you that we will continue to work with you in this latest endeavour to enhance fact-checking in the country. We have seen a number of fake information about the vaccine that it causes infertility and is targeting poor African countries. Therefore your support in direction to understand the need to be vaccinated would be highly needed."
Minister Sillah further stated that government would work with Gambia Fact in many areas to ensure that the credibility of information is not compromised in any way in the country.
"We recognised that you have a big challenge, especially in an era where almost everybody is an information producer using smartphones. That also is a challenge but with the commitment and professionalism of the members, the spread of fake news, misinformation and disinformation can be effectively protected."
The managing director of MAJaC, Sang Mendy, said the spread of false information has become prevalent in the national political discourse thus misleading Gambian citizens and threatening the country's fragile peace and nascent democracy. He added that it is without a doubt that no democracy can thrive unless citizens have credible information they need to make informed decisions and choices.
"The role of journalists is crucial. They have a duty to expose "fake news" and share verified information citizens can trust and rely on. This is why the Gambia Press Union supported by UNESCO trained few Gambia journalists on how to fact-check claims, images, and videos."
Mr. Mendy continued that journalists also set up a platform to curb the spread of information disorder by verifying and fact-checking claims, while saying that UNESCO is supporting Fact-Check Gambia to start running the platform.
Mendy, who doubles as the manager of Fact-Check Gambia emphasised that he has a strong and committed team of editors, researchers, fact-checkers and freelancers to make Fact-Check Gambia a vibrant one in the sub-region.
"We will do our utmost to ensure false claims, images and videos meant to mislead the public are fact-checked and verified. We will partner with on and offline media platforms to amplify our verified content. We will also endeavour to produce audio versions of the verified content in local languages for a wider audience. It is also our fervent desire to gain global recognition in the information disorder ecosystem faster than expected."
Read Other Articles In Headlines