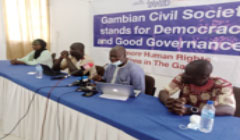 Njie was speaking yesterday at the TANGO conference hall during a press conference ahead of the Saturday march.
"The march pass is about us standing side by side with the victims and say never again in this country. In fact, even perpetrators should stand up and say never again will I be used to harm my brothers and sisters, and never again will I rape or torture or even take a life."
"Any Gambian that can't align under the banner of Never Again is evil and is a shame and a disgrace to our society. Therefore, as Gambians, we should put away all our differences. I don't care about the political party that you belong to. Nobody was born registered into a political party. We are all born as Gambians."
"We will not allow anybody to jeopardise what we are doing. We have developed a roadmap and we have written to the government and we have their commitment in writing and we are waiting to see it in action. We are waiting to see it in the budget and we are waiting to see what they would do when the report is handed over to them."
For his part, Madi Jobarteh, human rights activist, said the march past that CSOs and other stakeholders are embarking on is a component of the roadmap that the civil society developed.
The roadmap, he explained, comprises three pillars which include building public support for the implementation of the TRRC recommendations, supporting and facilitating the implementation process and the monitoring of the implementation process for the recommendations.
"The activities that we intend to do as part of pillar one is to engage the government and other stakeholders including the TRRC, the AG Chambers, and the country's Human Right Commission and also engage political parties and The Gambia Supreme Islamic Council and that of the Christian Council. We will also engage youth groups and international partners in order to share ideas and exchange ideas on how we all can support the implementation process," he posited, adding that they would also conduct media outreach and raise Gambians' awareness about the transitional justice process and about the TRRC and what it means.
The media and public engagement, he claimed, is intended to raise public awareness about transitional justice so that everybody will understand the issue and then join the transitional justice process. "We want to appeal to the perpetrators to join the transitional justice process as a means to repair themselves, repair the society in order for us to build new future that we all deserve," he said, adding: "As civil society, we ready to support the government in the implementation of the recommendations in a just, fair manner and in a transparent manner."
The monitoring process of their roadmap, he said is to guide the government to support all other stakeholders including victims and perpetrators to make sure that justice is served without any form of anger or maltreatment of any kind.
Sheriff Kijera, chairman of The Gambia Centre for Victim of Human Rights Violations, said "The Gambia has gone through 22 years of brutal dictatorship. We have experienced the worst human right violations perpetrated on Gambians in the country and all done by Gambians in the name of protecting one individual."
"Many Gambians disappear and still we don't know where they have been or where their bodies are or even where their remains are. Many people were killed under the instruction of Yahya Jammeh. Many people were tortured and many of our sisters, wives and daughters were raped by people on authority and not only Yahya Jammeh. So, Gambians have been suffering so much in the hands of the people that are supposed to be protecting us and provide security for us. What happened in the Jammeh era is very shameful."
Read Other Articles In Headlines