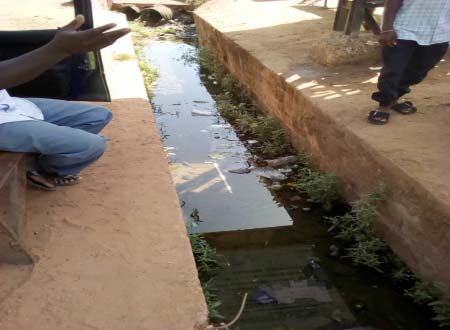 The gutters around Westfield –Jeshwang highway are open and filthy. Similar gutters alongside Westfield -Kairaba Avenue are also open causing challenges for drivers, commuters and roadside vendors.
Speaking to The Point in a series of exclusive interviews concerning the open gutters, Ebrima Jallow, a roadside vendor along the Westfield- Kairaba Avenue Highway expressed his feelings on the open gutters, saying the gutters are "very dirty and evolving bad odor" to the people within that area.
He added that the open gutters are worst in the rainy season because many people fall in it unknowingly, explaining that some parts of the gutters are blocked with refuse, thus preventing flow of water through the channel.
This, he said usually causes water stagnation in the gutters making people to accidentally fall in the gutters.
"We (vendors) have been rescuing people in the gutters during the rainy season on several occasions," he said.
However, he opined that the Kanifing Municipal Council should cover the open gutters in order to prevent accidents as well maintain hygiene.
Muhammed Tunkara, also a roadside vendor, said in recent times a car nearly had a serious accident as a result of the open gutters beside the road.
Tunkara said the open drain are evolving very bad odor and affecting all the residents as well as vendors within that environment.
Abdourahman Jallow, sweet melon vendor along the Westfield- Kairaba Avenue, said the situation of the open water channel beside the road is terrifying because it can cause severe accidents for people who walk beside gutters as well drivers.
"Authorities should cover the gutters to ensure refuse do not fall in it. If the gutters are seal it would be very good for the public because this highway is too busy," he said.
Lamin Sano, taxi driver at Jacaranda described the unsealed gutters at Westfield- Jeshwang as very dreadful, saying these gutters have been causing several accidents over the years.
"Last time, a white man was riding on a bicycle but he accidentally fell in the gutter and got injured seriously," he recalled.
He noted that these open gutters had caused death about two years ago, explaining that one student of St Therese Lower Basic School fell in the canal and he was carried away by the running water to the river and the child was later found dead in the river.
Bakary Kanteh, also a taxi driver said the open gutters are affecting the drivers who work within that environment, noting several commercial vehicles have been falling in the ditch accidentally.
"Some children are in the habit of catching gulf fish in the ditch. This is not safe health wise; therefore, KMC should seal the gutters rather than remaining open," he added.
They all called on KMC to clean and cover the gutters in order to save lives, prevent odor and ease the flow of water.
Read Other Articles In Headlines