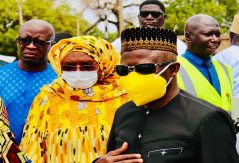 Darboe rejected the election results and has said he and his team are gathering evidence to legally challenge the declared results as dictated by law, which is why he would not sign the results.
He told his supporters that this country is a country governed by law, and as such, due process must be followed in seeking redress.
"This country is a country with laws. So, we are gathering evidence and we will do things within the dictates of the law," he said.
"In fact, I am happy that you people are celebrating. That shows our maturity as a country. If someone is declared a loser in an election, they usually cry but you are singing and celebrating and that shows your maturity. So, let's continue doing so but within the dictates of the law."
"I have not signed the election results and I will not sign them. This country is democratic country and the rules are there to follow if one contests the results of an election," he stressed to hundreds of UDP supporters.
"I'm calling for restraint because this country is a peaceful country and I don't want to see any violent behaviour from anyone."
Among his concerns which led to these statements, he said, is that The Gambia is in a tourism season and violent behaviours can put the tourism season in jeopardy, which could cause many young Gambians lose their job in the tourism industry.
He paid tribute to late Solo Sandeng who was killed in the Jammeh regime for standing against tyranny and continued that he did not not want to see anyone hurt or killed because of politics.
Read Other Articles In Headlines