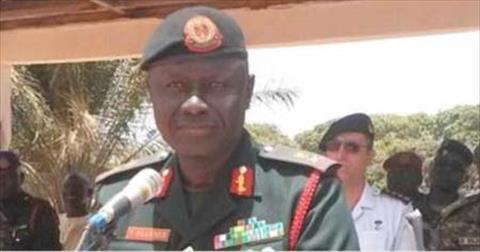 CDS Drammeh and Dembo Jarju were among passengers who boarded the Royal Air Maroc flight which arrived at the Banjul International Airport on 14 March 2020.
It was also reported the Inspector General of The Gambia Police Force (GPF) Mamour Jobe was also on board the flight. They were believed to be coming from France on an official mission.
The top Gambian security officers were part of passengers alongside the first Gambian to be tested positive for coronavirus.
The spokesperson of the GAF, Major Lamin K. Sanyang, said several tests have been conducted on CDS Drammeh and Navy Captain Dembo Jarju and the entire tests proved negative. "I can confirm that the two will be reporting to work today. In fact, the good thing is that they can interact with people."
The Gambia has confirmed three cases of covid-19; one death and another test pending.
In a similar development, ASP Lamin Njie, the spokesperson of The Gambia Police Force (GPF) has debunked reports suggesting that the police were going around closing businesses within the Kanifing Municipality. He confirmed that the police are on patrol to enforce the ban.
"Our officers are on patrol to enforce the ban on public gathering but not actually to close businesses. I think there was wrong information that got spread out within the business community," ASP Njie said in an interview with The Point.
President Barrow recently declared a ban on public gathering of all forms in the country while the country prepares to combat the spread of the deadly novel coronavirus.
PRO Njie added: "We are only out to ensure that the declaration of the president in banning gatherings is enforced. We are also working on ensuring that there are no hiking prices."
Author: Momodou Jawo
Read Other Articles In Headlines