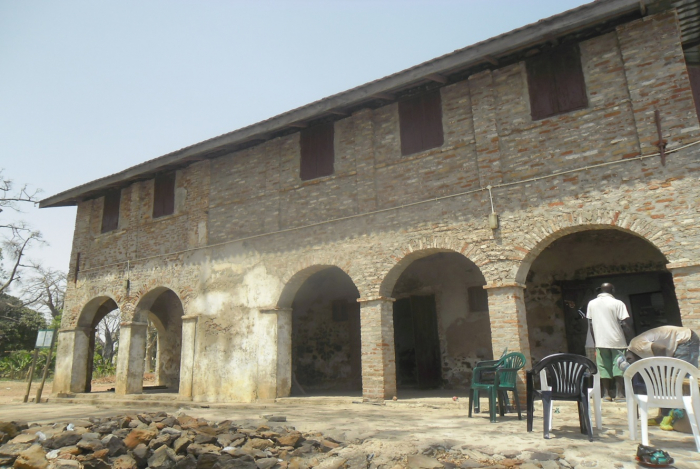 It is one of the Kunta Kinteh Island Related Sites – Juffureh/Albreda in North Bank Region (NBR) that accommodated everyone and business destination during the colonial period. Its importance has made Hecquard, a French Commissioned Officer to qualify it that "Albreda is a pretty and well situated trading post."
In a documented history of the site, the French obtained permission to establish themselves in Albreda in 1681 and built a single hut there, which burned down in 1686. They then rebuilt and expanded the comptoir with five new huts, consisting of a factory, a kitchen, a chicken house and two stores. But it was during the 19th century that the occupation at Albreda was of particular interest because of the CFAO Building.
In 1818, the French holdings were described as minimal, but there still was a factory producing a continual nuisance for the English trade, as it writes Sir MacCarthy to the Earl of Bathurst.
Their operations were expanded dramatically by the mid-19th century as evidenced the English Chaplain Poole's description from 1850 and a map dating to 1851 of Albreda's settlement. At this time, Albreda contained both large French and small British presence and a substantially larger native population of about 3000 people. His notation of five factories implies five company buildings not including the British establishment.
With the success of the community and in his general observation, Hecquard, described the factory settlement in 1851 in detail. He wrote: "Albreda is a pretty and well situated trading post. The traders who live there have built houses covered in 'esseintes' which makes them resemble our country houses, and gives it an aspect of a French village. The residence house is admirably situated and very spacious. One arrives there through an alley of 'bentenniers' which make it possible to walk in the shade at the height of the heat."
This account suggests significant investment in the factory by the French in the early 19th century, but also implies a dilapidated state of affairs at the time they finally abandoned operations from there in 1857.
Hassoum Ceesay, an erudite historian narrates that the CFAO (Compagnie Francaise d'Afrique Occidentale) building was one of the properties of the French trading post in Albreda. It is a storey building with an adjacent single storey warehouse. The ground floor, accessible through an open, arcaded veranda, served as a shop and store for goods. The top floor was used as a residence for agents of the trading company.
"The CFAO bought this building in 1902. Though the architect is not known, an 1847 plan of Albreda shows a building of the same shape in the same location. The building testifies to more than 500 years of various additions, demolitions and changes. The result is a mix of local boulders, chalk blocks, stones and fired clay bricks. The building lost its roof in the 1990s, so the degradation of the building was accelerated during the following ten years. The NCAC had finally led its rehabilitation respecting the materials and techniques employed in the original construction of the building."
Read Other Articles In Headlines