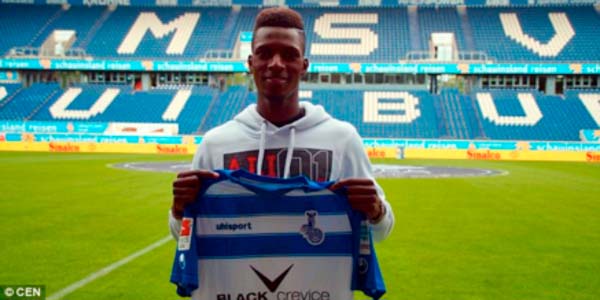 (Thursday August 25th, 2016 Issue)

Gambian striker Yusupha Yaffa will not face criminal charges in Germany following an investigation into rape allegations.

The 19-year-old was held in January last year, after a woman claimed she had been sexually attacked by the youngster at a teammate's apartment.
Following the claim, his former club Eintracht Frankfurt had posted a 100,000 Euros bail bond, which meant he would only spend a night in custody.
However, a court has now ruled that he will face no further action over the allegations and is cleared of wrongdoing.
A letter from the player's German lawyer, Klaus G. Walter, reads: "Mr Yusupha Yaffa, was represented by the issuer as criminal defence attorney. Mr Yaffa had been reported and arrested under the suspicion of raping a female person in Frankfurt/Main-Germany in January 2015."
"Following his immediate release on bail, the investigation of his case led to the result, that the suspicion against Mr Yaffa could not be confirmed in any respect. Therefore, the investigation against Mr Yaffa was dismissed by the prosecution authority of Frankfurt on May 20th 2016.
"In the follow-up period, the person who reported the offence did not make use of her right to appeal against the dismissal.
"As a result, Mr Yaffa's innocence stands proven and legally binding, now. Mr Yaffa is now looking forward to continue his football-career exempted from any judicial and public interferences," the letter concluded.
Commenting further on the issue to his PR Manager Modou Lamin Beyai, Yaffa said he was delighted with the result of the verdict and that he knew he was forever innocent.
"I thank Allah for guiding me through this and proving my innocence in the mater. I knew I did not do anything wrong of what I was accused of. My family, friends and people around me know that I am not a person who would do such, so I am grateful this is now over."
The Serrekunda-born forward, formerly of AC Milan in the Italian Serie A, further stated that he wants to put this issue behind him to focus on his job on the pitch with German club MSV Duisburg.
"I now want to 100% focus on my work on the field and help my club achieve its objective for the season. The problem has led to me losing focus and properly train with my team but now that it is over, I want to put things behind and continue doing what people know me for, which is scoring goals and playing well for my club."
Yaffa is currently on the sidelines at Duisburg with an injury.
Read Other Articles In Article (Archive)