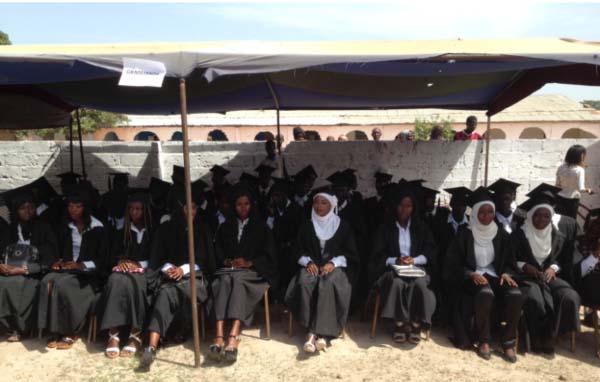 Yunus English School Saturday held their first graduation at the school grounds in Busumbala village, West Coast Region, on the theme: "Life after school."
Speaking at the occasion, Alkali James Gaye, Principal of the school, said since the inception of the school in Busumbala it had been offering subjects in Arts and Commerce to students in fulfillment of the requirement for WASSCE.
 He said the current enrollment of the school had increased from 155 in 2012/2013 academic year respectively, indicating 61% enrollment for girls and 39.87% for boys.
He said the institution has fifteen classes, ten in the morning and five in the afternoon shift.
The performance of students at the school is as follows: Arts and Craft 71% of the students that passed, literature 62%, government and geography 56%, English 55%, history, Islamic studies and financial accounting registered 51%, health science 49%, and agric science 40%, he said.
He said to enhance quality education in the school all parents are urged to provide their children with learning materials recorded by the school for continuous academic excellence.
Yunus Neneh Sillah, proprietor of the school, said he established the school for the young who are the cream of the society and future leaders of any country to have formal education.
This, he said, would take precedence and in essence to make them contribute immensely to the socio-economic development of the country and the world at large.
They have a well equipped modern computer lab with internet facility, a standard science lab and a sophisticated and equipped library among others, Mr Sillah said.
He also said he intends to bring up another project which would soon kick off as an establishment of an FM Radio station in the school.
This technology would enable students of the school to access internet facilities and other vital information and events happening in the school calendar, to enhance teaching and learning in the classroom, he added.
Fatoumatta Jahumpa Ceesay, the guest speaker of the occasion, said they are supposed to be planning lives, but they never supposed to plan more than they are supposed to do.
"Your life did not begin the day you got your certificate. It is like turning a certain age and thinking you will feel different the next morning," she said.
"You can spend every single moment of every single day you have left alive waiting for the next planned part of life to come to fruition so you can finally enjoy yourself," she added.
She advised the students to join career preparation programmes which many schools are offering that would help them explore careers or gain work experience which could also help them develop workplace skills or credentials.
She said that in line with the actualization of the President's Vision 2016 food self-sufficiency, they could come together to form cooperatives.
These programmes, she added, give them hand on experience in or different careers, appealing to them to be part of the President's Vision 2016 agenda to "grow what we eat and eat what we grow".
Read Other Articles In Article (Archive)