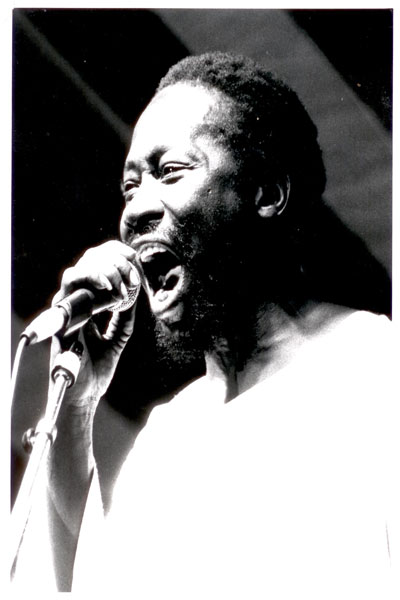 The story of the legandary musician
PAPS TOURAY
Died on 19th of May 2007
MAY HIS SOUL REST IN PEACE
To celebrate the life and works of the legend on May 19th
PROFESSION:
Singer of the Famous African Jazz Band, Super Eagles Band. Ifang Bondi & the Great Soto Koto Band Africa's most dynamic Voice, Singer songwriter & Founder of the Afro-Mandingo sounds & the Viva Super Eagles success Paps Touray was a singer, a lead singer of the Gambian African Jazz in the 60's. He is the son of Wolof Griot vocalist Marie Samuel Njie of Banjul. Marie Samuel Nice was a singing griot legend who composed songs for social harmony, social living, high society, politics, patrons of the arts, people's hobbies and life. The late Marie Samuel used to carry Paps Touray on her back. As she did with all her children including the historian, narrator & troubadour musician and singer Alhagi Efri Mbye.
Pap Touray started singing when he was a baby at the back of his mom and never stopped until he died on the 19th of May 2007 in the city of Banjul.
Paps Touray was the lead singer of the world famous Super Eagles band, which he formed with friend and brother Badou Jobe (guitarist & Bassist) to become the most successful African Band and the runners up were The Bembeya Jazz of Guinea and The Ryco Jazz of Congo. This open heartedness and love for music always forced him to sing with others in duets, trios, quartets, and quintets. He was free in his heart and never eat alone. His songs were songs of joy and of love and revolution. He composed the great Gambian music encyclopedia for beats, rhythms & melodies and harmonies.
The top 10 great songs of Paps are:
The Youth Song
Halel Daii Maga, 
Ham Ham,
False Love
Saraba
Armageddon
Yolele
Atis Atis
Duma Julo
Gambia/ Doko watoo Sita
The Children are starving everyday
All songs written by Pap Touray. Arranged by Senemie Taylor & Badou Jobe & Ifangbondi © Daii Maga Partners/Promoter/Producer by M. Oko Drammeh. www.okodrammeh.com/www.sotokoto.com
Pap composed poetry and musical verses and notation scores that became the yard stick for weight & dept in Gambian music that wasn't in America music, free from impersonation songs, copy western clothes and fashion style, reject imitations and copying others. With Ifangbodi, Paps set the creative cultural musical revelation in Africa. If any other jazz band, Ifangbandi opened the eyes of Osibisa, Fela Kuti, Salif Keita, Youssou Ndour, Mory Kante, Manu Dibango & Tour Kunda and Jimmy Cliff who came to The Gambai in search of Ifangbondi and travelled with the band to Dakar. Dollar Brand also visited the Gambia for musical inspiration. The biggest visit was the American Jazz Band, King Oliver Nelson with his 32 piece big band performing in Banjul at the McCarthy Square (July 22nd Park), Santana almost made it here but he stayed in Cassamance. Taj Mahal was the last greats to visit the land of music, the Gambia, the birth place of the musical instrument the Kora.
Paps Touray started playing music at Foyer French school music hall until cousin Laba Sosseh introduced him to the rehearing band member of Portuguese-Africa Origin, natives of the Cape VerdeIsland who migrated to Banjul, St. Louis and Goree. They foyer Hall was in the heart of Wolof and Portuguese town ward of Banjul South. These musicians used non-electric instruments like bongos, box guitars, contra bass, clarinet, violins and vocal groups and solo singers. This is were the first song bird of Paris and all Europe was born, the lady who conquered Paris after the American belly dancer Josephine Baker, Miss Vicky Blain of Dobson Street in Banjul Half-die. Vicky was Paps Touray's best friend. They together sang on stage the famous Vicky Blain song Black as Night which was a huge success in Monte Carlo, Ibiza, Monaco and in downtown Paris.
Pap Touray together Senemie Francis Taylor, Badou Jobe, Modou Cham, Oussou Njie, Charles Valentine, Malando Gassama, Edu Hafner Pa Lamin Drammeh and Alieu Kah first started the Super Eagles before breaking though into the global music business and music scene. With an original brand of sound called Afro Manding Sounds, the sounds revolutionized and a re-branded the name to be called Ifangbondi meaning to "Show Your True Self". The Afro Manding Sounds was the Pan African sound for African freedom fighters for ONE AFRICA. Global and yet local.
The success Ifangbondi brought was an Anchor than fitness for all the African bands pursuing the Pan African sound and since the market range of the Gambia was small , a country of 60,000 people then, they brought Senegal on board  a country of 10 million people, whose music had no originality and direction because (of colonialism) most bands were white people from France and they were our neighbors, we integrated them into the music of the wolof, the Fula, The Jola and the Mandingos. Ifangbondi introduced modern mudicinhe sub region and teach people how to make tunes and chords to form musical styles, as well as electric instruments, synthesizers, the electric guitar, drum set and stage show appeal.
Paps Touray and Ifangbondi migrated to Senegal to broaden their market because of a wider fan base to increase there income to start a music industry in the Gambia. The Government at the time promised a piece of land at Tobacco Road for a multi purpose auditorium, recording studio and performance Arts Centre. But later through envy, jealousy due to their fame and worldwide success and female fan appeal the officials did not like that, nor to see anyone successful and STAND OUT, totally liberated and free.
They made a second request for land for a music school and music business centre but the application was rejected. The band was taking water to the sea and that is spending without returns or recognition within The Gambia. Facing denials and impossible situations and political harassment. Later in the year of 1981 Paps Touray was arrested beaten and tortured and from that day on wards broken. Asking god "What have I done, my lord". They beat him and sentenced him. He later was released and he traveled to Europe a free man but a lonely man in because Gambia is all that he loves. Music was banned in the Gambia due to the state of emergency in July 1981 and the band members took a strategic retreat in Europe.
This was going to be our Hollywood had it had NOT been abandoned. By this time we would have been making CD players, DVD disc at low cost and distribution network worldwide. We could have been distributing to Europe, Asia and America music from all over Africa processed, mixed, mastered in the Gambia and sent all over the world.
Ifangbondi was DENIED the rights to their VISION to start a music capital in the Gambia. The fabulous life of Pap Touray was more accepted in Senegal and in the UK than in the Gambia.
If any thing, there was a musical scene in The Gambia, instrument shops and repair studios, with a transport system and communication system supporting the music industry.
Ifangbondi opened an administrations office at
20 Hope Street
and employed a secretary on pay roll, they employed technician and drivers on pay roll, the paid all salaries on time and support all promotion action both locally and internationally. They never condoned injustice. Pap Touray was Paul Robeson, the great Black American Singer who advised Kwame Nkumarah, Jomo Kenyatta, I G Garba Jahumpa and Julius Nyerere that they must go back home and free
Africa
. Paul Robeson was awarded the Grand Order of Russia by Stalin and died in the
USA
in the early 60's.
Paps was a man of sport, national goal keeper or of the Gambia, a youth leader and a champion of workers rights in general. He was the fashion eyes of Gambia Ghana and Senegal with great suits costumes, gloves, hats and sexy looks that killed all women all over the world. He was a REALSTAR and the first Gambian Superstar.
One day he left his work at the Police barracks the to attend the Gambia workers strike for salary increase and he was spotted singing " we-shall-not-be-moved" The next day he was dismissed from the police force and later that day he went to Dobson Street in Banjul to join the African Jazz under the later the direction of Alhagi Chamsu Coker.
From African Jazz, he summoned the Eagles band with Malick Secka, then the Super Eagles with Solo Darboe, and then he started in London, England the world famous and the pride of Africa and The Gambia the Formidable Ifangbondi Band and lastly he went solo with the Soto Koto Band and recorded all his compositions with vocal instruments readings with the Higher Octave records of Hollywood, California and recorded for Generations to come.
 Paps Touray A.K.A Abes, was an intellectual, and a flamboyant artist. He had a message and he never work for money but labored for love.
He always said "money cant buy you love" and also money he don't want to keep but only to pay bills and give away the rest to the needy. One needs money when the bills come, food to eat and life.  Paps was real. His name will live in the lips of generations to come.
May his soul rest in perfect peace.

By Oko Drammeh
Manager Producer
Soto Koto Band
Promoter/ Ifangbondi
www.sotokoto.tv
TO CELEBRATE THE LIFEAND WORKS OF PAP TOURAY, PLEASE PLAY THE MUSIC ALL DAY, WRITE THE FULL STORY, NEWSPAPERS, NEWS REEL AND FLASH NEWS AND KEEP THE LEGACY OF PAPS ALIVE.
Read Other Articles In Article (Archive)