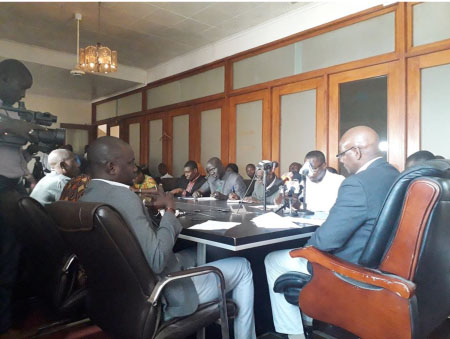 (Issued Monday 21 January 2020)
Youth and Sports mini Hadrammeh Sidibeh said National Youth Conference and Festival (NaYCONF) is a platform that creates the hearing of youth voice through their active participation in meaningful engagements, dialogues and positive socialization.
He said the biennial gathering enable young people to discuss issues affecting them and map out common road map and actionable programmes and proposals to government, development partners and youth themselves for implementation.
Presiding over the launch of the local organising committee of this year's event, on Thursday, Minister Drammeh said government is to support youth initiatives, including NaYCONF.
"The government is aware of the importance of NaYCONF and what it takes to stage a successful one. We anticipate a great youth conference and festival in April 2020," he said.
During the gathering, youth will discuss the 10 themes of Gambia Programme of Action on Youth. It will mobilize over 2000 young people within and outside the Gambia.
The total estimated budget for the 13th edition is D7 million.
"We would like to thank the government for supporting youth activities. We also thank the UN systems and other partners for their support."
Omar Touray, Deputy Mayor of Banjul said NaYCONF is an important event that has helped to change and develope many young people.
"As the host of this year's event, we're ready and we'll make it great."
Speaking on behalf of the UN systems in The Gambia, Abdou Touray from UNDP said the biennial event creates a platform for engagement, assuring that UN systems will support the youth all the way.
Essaha Sowe, youth chairperson of Banjul expressed delight for hosting NaYCONF2020.
He said they will work very hard to ensure a great event is stage for the young people of the country.
During the launch, a hosting agreement of NaYCONF2020 was signed the chairperson of the national organising committee Dembo Kambi and Deputy Mayor of Banjul Omar Touray.
The event was attended by senior officials of MOYS, heads, staff of satellite institutions, UN Systems, Development Partners, NGOs, National Youth Organisations, Board, Management and Staff of National Youth Council, and media.
Source-NYC
Read Other Articles In Article (Archive)