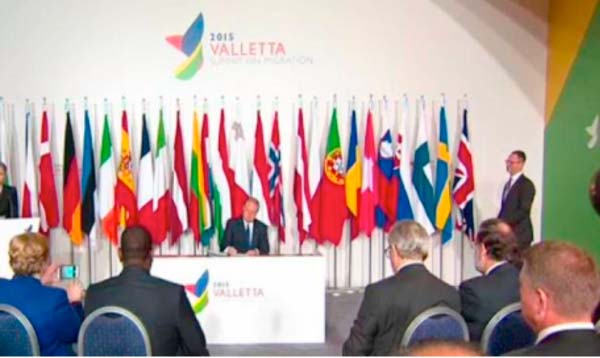 The menace of illegal migrants prompted the European Union to hosts a high-level summit of EU and African leaders on the migrant crisis in Malta recently.
The Gambia delegation was led by Abdou Jobe, Minister of Trade, Regional Integration and Employment, and included Ousman Sonko Minister of the Interior, Alieu K. Jammeh Minister of Youth and Sports, the Director of National Youth Council (NYC), the Gambia's ambassadors in Brussels and Spain, among other delegates, including a representative of the Gambia Immigration Department.
The members of the delegation maintained their position of addressing the root causes of migration.
The European Union promised African countries it would offer their citizens jobs and training, if they cooperate in curbing illegal migration and implement effective mechanisms for the re-admission of migrants from Europe.
Addressing foreign and home affairs ministers at the EU-Africa meeting on migration and development held in Tripoli, Libya, the EU Commissioner for Justice, Freedom and Security, Franco Frattini, said the EU would make it easier for Africans to enter Europe legally, even if within limited quotas, provided they agreed to take back migrants entering Europe illegally.
The EU would establish a job mobility portal for Africa to facilitate supply and demand of human resources next year.
At the same time, he added, the Commission would be proposing new legislation on penalties against employers of illegal migrants, because the opportunity to work illegally in Europe was serving as a magnet.
While the EU pledges to help migrants return to their homeland voluntarily, by for example educating them to remain in their country of origin, Africans need to effectively honour their international obligations to readmit their citizens caught living in Europe illegally, Mr Frattini said.
Speaking on behalf of the EU presidency, Finnish Foreign Minister Erkki Tuomioja also brought up the readmission issue, a point Malta has been stressing for the past year.
Mr Frattini called for the setting up of migration profiles that would give a clear picture of migration flows in Africa, as these would provide the information needed to develop concrete measures.
Pledging the EU's support for the monitoring of migratory routes, the commissioner said the EU was ready to help build up the capacity of African states to manage asylum and migration through twinning arrangements.
The Valletta Summit on Migration ended with a Final Declaration and Action Plan, which Joseph Muscat described as "an important first step for a two-way relationship" between Europe and Africa.
"The action plan shows maybe for the first time, the commitment by Europe to see the relationship flourish," the Maltese Prime Minister said.
European Council President, Donald Tusk, said this had been a frank and productive discussion.
"What we have agreed is a crucial step in reinforcing our cooperation; we now need to get moving on implementing the action plan in partnership and solidarity."
He explained how the action plan is aimed to address the causes of migration, enhance cooperation on legal migration, reinforce protection of displaced persons, fight migrant smuggling, and make progress on readmission of persons not entitled to stay in Europe.
"We are committed to giving people alternatives to risking their lives"
- Tusk
What was even more important, he said, was the long list of actions to be implemented by the end of next year.
Among them were projects to create jobs in countries of origin and transit, the doubling of the number of students in Erasmus Plus programmes, the establishment of regional development programmes in Central and North Africa, the setting up of a joint investigation team in Niger to fight migrant trafficking and then develop it in other countries, and the facilitation of migrant returns by a number of steps such as African officials coming to Europe to identify irregular migrants.
To help implement the commitment, the EU has formally set up a trust fund of €1.8 billion on top of other development assistance of €20 billion every year.
"We cannot improve the situation overnight, but we are committed to giving people alternatives to risking their lives," Mr Tusk said.
The President of Senegal, Macky Sall, said Europe and Africa had pooled their efforts and adopted a strong political declaration and action plan.
"We are neighbouring continents linked by history, geography and cooperation and we must consider action on migration in dialogue and direct exchanges," he added.
"A compromise that has been reached can be improved, but the important thing is that it is implemented," he said.
Saving Schengen is a race against time. And we are determined to win that race.
Replying to a question on the re-imposition of border controls by some EU countries, Mr Tusk admitted that this was a race to save the Schengen Agreement.
Citing Sweden's move to reimpose checks on arrivals from other EU countries and new measures in Germany and Slovenia, he said that these showed EU states were under "huge pressure."
That, he said, would require implementing the series of measures agreed among EU governments over the past few months.
"This includes, first and foremost, restoring external border control. Without effective border control, the Schengen rules will not survive."
"We must hurry, but without panic."
Dr Muscat said new rules and institutions were needed both to save Schengen and to tackle migration. Building walls was never a solution he stressed, adding jokingly that it was difficult for Malta to build walls in the sea against migrants.
Read Other Articles In Article (Archive)