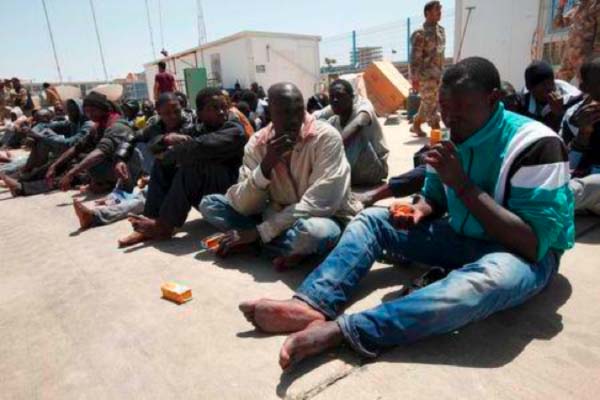 Libya still remains as a strong transit point for most of the West African migrants for different purposes.
Some are running from war in their native countries, to save their lives in Europe.
A good number of migrants are from the West African countries such as Mali, Senegal, Gambia, Burkina Faso and Niger, and are looking for greener pastures via Libya through the desert to their final designation in Europe.
Despite constant or frequent arrests made by Libyan's coast guard, still there are thousands and thousands of migrants hiding in the Libyan capital waiting to be smuggled to Europe by traffickers.
A good number of these African migrants have already paid the trafficking fees, waiting the boat to Italy and this are the people locally called "kosori" who are responsible for their feeding and shelter, before they would be departed any day from Tripoli to Italy, through the money paid to them for crossing fees.
We have read or reported a series of arrests being made in order to ease or control the number of migrants going into Italy or Tripoli from other African countries, but still the situation is getting worse.
Recently, Libya's coast guard succeeded in arresting and detaining almost 600 illegal African migrants who are heading to Italy; among them there were pregnant women and children under 18 years.
They had tried to sail to Europe on a local fishing boat, later intercepted by the coast guard before leaving Libyan waters.
We recommend through the support of the other relevant stakeholders in the fight against the illegal migration, such as human rights organizations, UN, EU and all the relevant agencies who are advocating or fighting against illegal migration, to join hands to remedy the situation before it is too late to save the lives ofour fellow human beings.
It is very disheartening, despite the dangers of the journey, that still many are brave enough to risk their lives just to be in Europe, when most of them would be there for years before they could even have correct shelter.
One thing we the African youths failed to understand is that "all that glitters is not gold", and sometimes some of the migrants, even when they are already in Europe, still find life very difficult.
As many as 900 people may have died some months ago off Libya's coast, when their packed boat capsized as they were trying to reach the Italian island of Lampedusa.
Some even disagree with that figure, given 900 could be escalated; and many thousands more have managed to make the crossing on an almost daily exodus of boats.
"Libyan's coast guard is still continuing to be active in getting migrants who are attempting to sail to Europe from different African countries such as Somalia, Eritrea, Ghana and Mali," said Mohamed al-Ghwaili, and something needed to be done about it.
He said the Africans had tried to set off to Italy in old fishing boat called canoes, which could only take less than 100 people; as ungodly traffickers put in a boat 300 people, tripling the actual capacity, in the high seas.
That is why Libya is a very good strategic point to combat the problem of the West Africa illegal migrants, he said.
Read Other Articles In Article (Archive)