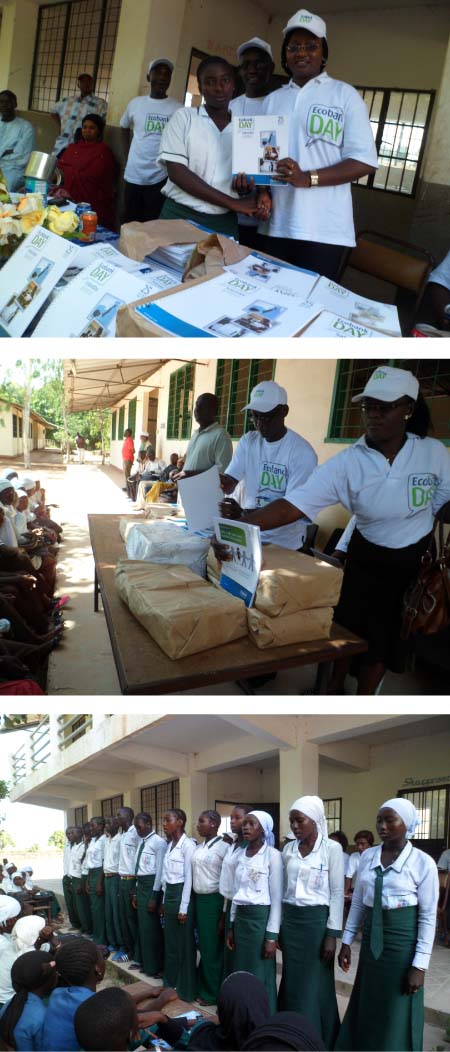 As part of celebrations marking Ecobank Day, Ecobank, the Pan-African bank, on Thursday donated learning materials to two schools in the North Bank Region.
The beneficiaries, Farafenni Senior Secondary School and Ngayen Sanjal Upper Basic School, benefitted from books donated by the bank.
The latest donation comes less than a month after Ecobank celebrated the first ever Ecobank Day in the form of painting a classroom at St. Johns School for the Deaf, and donation of learning materials to school children of Kabafita Lower Basic School in Brikama to support their education.
As of this year, October 5th of every year, Ecobank and its staff across the entire network will get together and devote a whole day to community-related activities.
Speaking at the handing over ceremony of books to the schools, Alagie B. Ceesay, branch manager Ecobank Kanifing branch gave an overview of the bank, which he said, is a Pan-African bank for the continent.
He told students that Ecobank was founded in 1988 with the aim of trying to make sure that the sons and daughters of Africa have access to their funds anywhere in Africa. This, he said, was the ultimate aim of the bank.
According to Ceesay, Ecobank is today operating in thirty-four countries in Africa and expressed hope that by the next ten years, Ecobank will be operating everywhere on the African continent.
While underscoring the importance of education especially in Africa, Ceesay said this is the reason why Ecobank choose ''Education for young people'' as the theme for its Ecobank Day.
''You will all agree with me that education is the key to success and that is why Ecobank deems it necessary to come up with this theme,'' he stated, adding that the aim is to support schools in terms of learning materials.
Ceesay urged the students to understand that Ecobank does not belong to an individual but to Africa as a continent.Therefore, he added, we all have a responsibility and obligation and that is why Ecobank is here to support the students with learning materials.
He called on the students to encourage their parents to bank with Ecobank, which he said, currently employs more than Nineteen Thousand sons and daughters of Africa.
He told students that currently, Ecobank has seven branches in the Gambia and hope to expand more in the country.
For her part, Fatoumata Jallow, Head of Retail banking at Ecobank expressed gratitude on behalf of the Managing Director of Ecobank to present the learning materials to the schools, noting that the importance Ecobank attaches to education cannot be overemphasized.
While urging the students to be more focused, Jallow noted that many people today occupy top positions thanks to the quality education they received.
According to her, Ecobank Day was set aside to among others give back to the communities in which they serve.
She stated that 60% of the population in Africa are youths, and Ecobank did not make any mistake by choosing the theme for this year's Ecobank Day.
She explained that this year, all Ecobank affiliates celebrated Ecobank Day in the same manner by giving learning materials, and painting schools in Africa.
Ecobank, she added, deems it necessary to contribute to the young people in Africa as they are the future leaders of the continent of tomorrow.
Jallow further stated that Ecobank do not only want to offer learning materials to schools but will come up with more offers.
''We would like you as students to convince your parents, teachers, friends to bank with Ecobank as it is the Pan-African bank, which is here to support Africa and its people,'' she stated.
In receiving the items, the principal of Ngayen Sanjal Upper Basic School, Adama Jagne commended Ecobank for choosing his school out of many to offer them with learning materials.
Noting that the books will go a long way in helping the school and the students, Jagne stated that from now on, the school will continue to partner with Ecobank.
Other speakers include the vice principal of Farafenni Senior Secondary School, Mr Gigo, Ecobank Farafenni branch manager as well as students and teachers. 
Read Other Articles In Article (Archive)