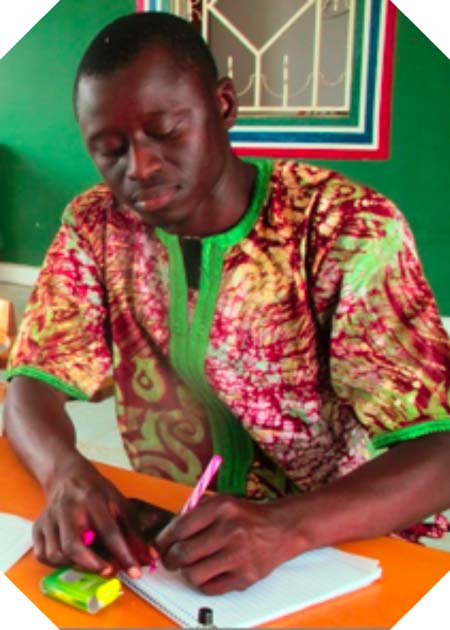 Alagie Jarju, programme manager National Youth Council, has told journalists that it is crucial that they expose the young ones so that they could be good leaders in the future.
It is generally important that they learn a lot of life skills, and so much experience would help them in their daily lives, he said.
"Exposure is important," he said, in an interview with journalists on the sidelines of an 8-day youth and sports summer camp in Farafenni jointly organized by the National Youth and Sports councils.
The camp brought together 120 youths, of age 10 to 15 years old, to share experiences and nurture their hidden talents in the areas of sports, leadership, public speaking, health and other related areas.
They would also be exposed to current affairs, human rights and skills acquisition so that they would be acquainted with these skills and utilize the opportunity, said Mr Jarju.
The 4th edition of the camp was jointly organized by National Youth Council and National Sports Council, and funded by the Government of The Gambia, UNESCO, UNFPA and ChildFund.
The theme for this year's camp is: "An Informed Youth on Sexual and Reproductive Health, Education and Sports is an Empowered Youth."
"The youth summer camp is by no means a waste of government money," he argued, "if other countries like Senegal are doing it, it could not be a waste of money."
He said they bring the young people together to expose them to different cultures, adding that other countries like Senegal have been doing this for the past 20 years.
He said education does not only stop within the confines of the classroom, as it goes beyond that, and this camp was more or less an educational camp for the kids.
"When we were coming from the ferry and a lot of them have not crossed; some of them who live in Banjul never crossed with the ferry. So crossing with the ferry is another way of exposing the kids," he said.
He added: "Apart from the ferry, some have never gone to North Bank Region. Again we are exposing them to North Bank, as the cultures in Banjul, Serrekunda and life in Farafenni is a bit different; so we are exposing them to that too."
"It also leads to mutual understanding among the kids, and some of the kids who did not have friends in Basse, Soma, Janjanbureh, Farafenni and Banjul today they have one," he further stated.
"They are just socializing well among themselves, and it is very important, and again is a great opportunity for them to visit Chamen and Illiasa and do some tree-planting exercises," he went on.
"They are also exposed to many sporting disciplines every morning, as they do some sporting exercise; and we are hopeful that they will continue to do this when they go back home," Jarju continued.
SRH, education
"We have a presentation in sexual reproductive health and rights, and there is always a problem of teenage pregnancy; but with the skills they will gain, this would enhance their knowledge on sexual reproductive health."
Jarju said apart from that, they would expose them to some lectures on Gambian history and some live skills on HIV/AIDS, hairdressing and skills in painting.
"We hope when they go back home, with the small practicals they have been doing, they will be able to continue doing this; and whatever they learned from the lectures on sexual reproductive health and rights."
They hope the kids would put into practice what they learn, so as to protect them from sexually transmitted diseases and teenage pregnancy; so whatever they learn in the camp would be in the long run useful, as they have been informed on STIs and HIV/AIDS.
Pa Suwareh Faye, deputy director, Directorate of Planning, Ministry of Youth and Sports, said the camp was not a waste of money or resources. "It is worth doing it."
"People who say the camp is a waste of money; that is baseless. This camps help to expose young people to different cultures and education," he said.
He said it is important for youths to come together and know each other, so that the language barriers could be broken among kids.
He highlighted the numerous achievements that the camp brought into the lives of the young people, adding that some of the pervious campers are now doing very well in different disciplines such as agriculture, entrepreneurship, among others, in the country.
"Many kids are also exposed to many kinds of sporting opportunities, including the fact that they have never before been in the various regions of the country."
He thanked UNESCO, UNFPA, Black and White, ChildFund, the government and Ministry of Youth and Sports for the support, and the media.
Read Other Articles In Article (Archive)