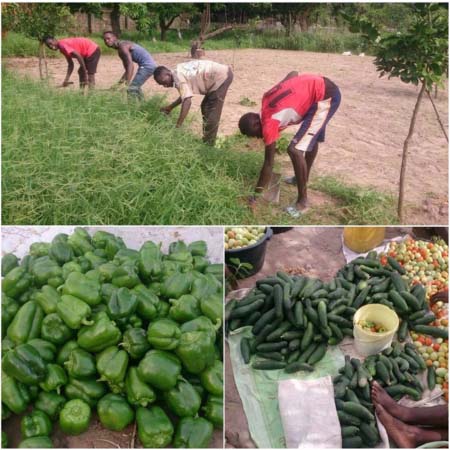 Many Gambians young people are now discovering that they can make farming a profitable career in the country.

George Jatta, Assan Sanyang, Sang Mendy, Christopher Jatta and four other young people are venturing into vegetable gardening in Abuko, with promising harvest.
They started their gardening with a capital of D5000; with the cultivation of vegetables such as tomatoes and cabbages.
They supply year-round fresh vegetables to local markets in the country and are now hoping to expand their market to other parts of the country in future.
They encourage young people to engage in vegetable gardening to increase their revenue which will enable them to prevent themselves from engaging into criminal activities.
They said vegetable gardening decreases the country's import and increase exports, observing that it can also create job opportunities for many youth.
They are encouraging their fellow youth to venture into vegetable gardening to improve their living conditions.
The youth appealed to the government and international organisations to help them with fertilisers and other necessary farm inputs to improve their garden.
"We need support from government, private sector, philanthropists, donors and companies to expand our garden," one of them said.
Investing in young farmers can help the new Gambia produce food, create jobs and give agriculture a new makeover.
They stated that government should support young people to venture into vegetable gardening as source of income for them.
They said government should aid youth to prevent from using back-way to Europe searching for good living conditions and criminal activities.
They urged government to create storage facilities and market for vegetable gardening items after harvest to secure price for their items.
''With good storage facilities and markets it would encourage many youth in the country to venture into vegetable gardening to better their living conditions,'' they said.
''Without good storage facilities and markets it be would difficult for young people to engage themselves into vegetable gardening,'' they pointed out.
Read Other Articles In Article (Archive)