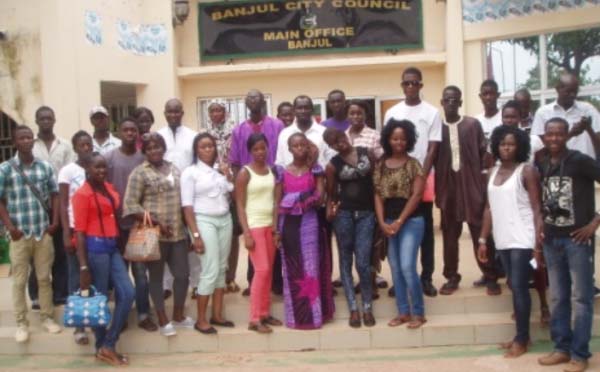 Banjul Youth Committee recently organised a daylong forum to sensitise the youth of the capital city on the effects and impacts of climate change and ways to lessen and mitigate it.
Held at the Banjul City Council, the forum – targeted 40 participants – was part of the committee's celebration of the 2015 International Youth Day.
Speaking on the occasion, Amie Jaw, youth coordinator of BYC, said the National Youth Council, after the national celebration of International Youth Day, suggested that all regional youth committees should do their respective regional celebration of the day.
The topic chosen for BYC to stage the celebration is climate change. 
"So we decided to celebrate it in the form of a forum where young people from different youth groups and communities in Banjul come together to be sensitised on climate change," Ms Jaw said.
She further said if the young people are fully aware of climate change, its impacts and ways to mitigate it, then they would participate effectively in combating it.
The incoming chairman of BYC, Modou Lamin Bah, urged young people "to create time" to participate for youth work because it is one way that can make them involve in lots of worthy extra-curricular activities.
Councillor Pa Mamour Ceesay of New Town West ward hailed the BYC for organising the forum on climate change, for "it would help equip young people with the necessary skills on climate change".
He said young people are the drivers of change so they should be involved in efforts to alleviate climate change and global warming.
Deputising for the Mayor of Banjul, Councilor Tunko Jammeh of Soldier Town ward said most of the youth have little experience about climate change and its impacts on the environment, which is why it is important to sensitise them on the topic.
He said many environmental problems such as erosion are due to climate change and global warming.
During the forum, Lamin Jobarteh, executive director of West African Birds Study Association (WABSA), made a presentation on the causes, impacts, and ways to address and mitigate the issues due to climate change.
Read Other Articles In Article (Archive)