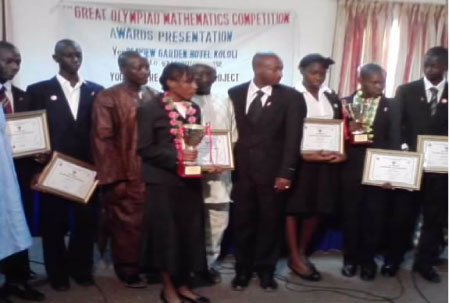 Youth Care Foundation (YCF) last Friday presented awards to winners of the recently concluded inter-school mathematics competition involving junior and senior schools, at a ceremony held at the Seaview Hotel in Kololi.
Organizers say the Great Olympiad Mathematics Competition (GOMC) serves as a forum to discover the participants to represent The Gambia in the Pan-African Mathematics Olympiad in Tunisia in September 2012.
Aminata Jarju of Deeper Life School emerged the first winner for the junior category and was presented with a championship cup, Skype Rainbow accounts and a certificate.
Yankuba Jabbie of Latrikunda Upper Basic took second and Mustapha Sowe of St. Therese' School was named third winner.
The second and third place winners were also given certificates and Skype Rainbow accounts.
In the senior category, Jemima Ifunanya Egbo of Ndow's Comprehensive emerged first winner and was also presented with championship cup, Skype Rainbow account and a certificate.
Abubacarr Ceesay of Gambia Methodist Academy and Jainaba Corr of SBEC High School were named the second and third place winners respectively.
Speaking at the ceremony, Kolapo Abdul, Executive Director of YCF, said GOMC's vision is designed to support outstanding students in both upper basic and senior secondary schools.
He said they also organised the event to recognize the teachers and schools that inspired the students' excellence.
He revealed that the event was proposed to hold in Burkina Faso but has been referred to Tunisia by the organizing committee.
The competition, he revealed, went through preliminary rounds and ended with final stages, between December 2011 and February 2012.
He added: "Most students enjoy the pursuit of excellence and seek opportunities to test themselves against their own accomplishments and those of their peers. Such an opportunity is best provided through properly conducted and equitable administered competitive activities."
Fatou Kinneh Sey Mahmoud, PEO Science and Technology, Ministry of Basic and Secondary Education, said competition in mathematics is important in many professions as it covers problems solving, communicating mathematical concepts, reasoning and establishing proof, and representing information in different forms.
"Making connections among those skills and concepts both in mathematics and in other subjects is something students are expected to achieve both in the classroom setting and later in the workplace," she noted.
According to her, the benefit of competition becomes evident when children who hesitate to participate in mathematical activities because of language barriers often willingly join in a game or competition.
Meanwhile, in a separate development, Baboucarr Manjang of St. Peter's Senior School, Ebrima L.K Njie of the Gambia Methodist Academy, Haddijatou Secka of Nusrat Senior Secondary School and Hassan Sillah of Gambia Senior Secondary School were announced as qualifiers to represent The Gambia at the Pan-Africa Mathematics competition at the international showpiece in Tunisia.
Read Other Articles In Article (Archive)