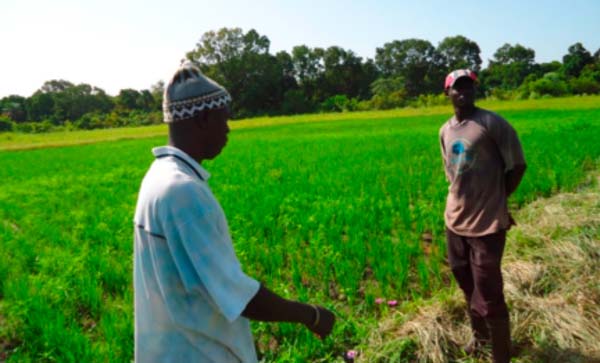 The Minister of Youth and Sports recently visited the National Youth Service Scheme (NYSS) rice field in Sapu, Central River Region, as part of his five-day countrywide tour to youth farms and sporting facilities.
Informing the minister of the state of the farm, the Executive Director of the NYSS, Emanuel Mendy, said the farm was meant for training on production, in which the NYSS has, over the years, involved over 125 youths learning agricultural production, supported by NEDI.
The 1.3 hectares, has been cultivated over 15 years, is expected to be harvested in December, he said, adding that the produce would be used for income generation for the institution to support trainees for their production.
He added that the NYSS has been cultivating the place for the past 15 years in collaboration with NARI, which provided them with the land for rice cultivation.
"To strengthen the President's call for Vision 2016, we are using the Sapu rice field to train youth for rice production on nursery, planting among others which we believe will help them attain the President's Vision 2016," Mendy said.
NYSS farm manager, Momat Nyang, said they also have another farm in Nyanibereh village, while describing Sapu as the largest base for rice cultivation in terms of research and production.
Nyang thanked the President for allocating them a plot of land in Sapu, which has helped them in cultivation.
He disclosed that the area is currently being destroyed by running water into the rice fields, hence rehabilitation of the farm is also a priority.
NEDI General Manager, Landing Sanneh, in his remarks, said at the 1.8 hectares rice field in Jahally Pacharr they hired labor during the cultivation, which was supervised by NYSS staff.
While thanking the NYSS for proper coordination, he disclosed that the 1.3 hectares had already been harvested waiting for final processing. 
Read Other Articles In Article (Archive)