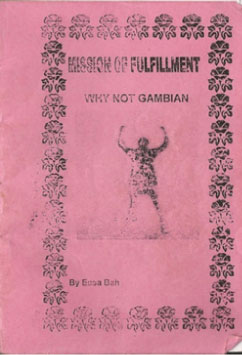 Essa Bah, a young Gambian writer residing in Banjul, has written a book but is seeking support to publish it.
The book, entitled 'Mission of Fulfilment', highlights among other things the coming of Islam to The Gambia and how local chiefs ruled their people during the pre-colonial era.
In a chart with Youth Forum yesterday, Bah said that ever since he was in high school at Amitage, he had fallen in love with writing.
"After years of struggle this is going to be my first book and I need support to realise my dreams of becoming a great writer," he said.
"When I was going to school, I never had the opportunity to read Gambian novels at school and I decided to venture into writing one," he added.
Meanwhile, those who would like to help Essa Bah have his book published can reach him on 00220 - 7660179 or via The Point's email: thepoint13@yahoo.com.
Read Other Articles In Article (Archive)