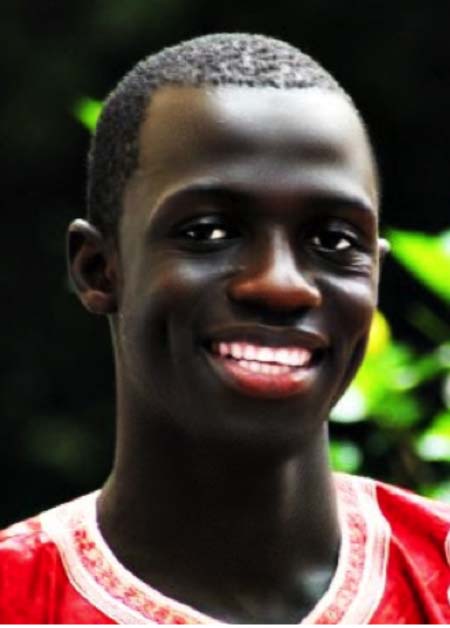 Hello and warm welcome to another exciting edition of the weekly youth forum.
In our today's edition we bring you an interview with young Africa UNICEFF spokesperson, Abdou Jatta,  a dynamic and promising young Gambian  personality whose ability, passion, dedication and hard work to the cause and service  of child participation and youth empowerment through active participation in decision-making process to succeed,  has exemplified, and in fact proved beyond reasonable doubt that the Government of The Gambia encourages child participation and youth empowerment to enable them take up their proper roles in the national development process.
Hon Abdou Jatta is a young social crusader, a youth parliamentarian, who is currently serving as UNICEF Speak Africa Youth Spokesperson and a member of the UNESCO NATCOM Youth Advisory Board for The Gambia.
Sighting him as a young person on the move, one clearly reads the great handwritings on the wall, and gets to discern that child participation and youth empowerment is indeed on course in The Gambia and the African continent.
The UNICEF's 'Speak Africa' Youth spokesperson stated that "emancipation comes through struggle", while revealing his organization plans to change the life of young people on the continent.
He gives an expatiated account of his life, activities and programmes, here following:
I am Abdou Jatta born and bred up in Bakau New Town in the late 80s to Fatou Camara and Suntu Jatta of blessed memories. My mum is a businesswoman and my dad a former civil servant.
I am the last born son of my family of three brothers. I grew up in an extended family system with my mum, dad, aunties, uncles, cousins, grandmother and my grandfather.
Growing up in that setting as a child has made me learnt how to share, as food is always dished out in a big bowl and both young and old eat together.
The spirit to help people also grew in me as we always help one another in good and bad moments, which has attracted my dad to fondly call me KENDO, meaning the great one.
One of my concerns is to promote leadership and responsibility within my peers in line with the philosophy of bunts. I believe that the next generation of African leaders needs to be at the cutting edge of a leadership whose defining features are probity, humility, integrity and compassion.
Never have I forgotten the words of my mother who used to say 'In any situation one needs a certain amount of intelligent ignorance, – sit back and listen before acting.'
Belonging to a tight-knit family network has been crucial to my success, and both of my parents passed on to us wise counselling, proper codes of behaviour, human values, and discipline and hard work.
In my family, indolence is not tolerated. My father is the breadwinner of the family and with his meagre income he uses it to educate, clothe and feed his family.
I attended Bakau New Town Primary School. After passing the Common Entrance Examination Certificate, I proceeded to Ibrahim Garba Jahumpa Upper Basic School in Banjul, and to Gambia Senior Secondary School.
I proceeded to Ndow's Comprehensive Senior Secondary where I did My IGSE and AS and A'Level Sixth form, completing as the most outstanding student in that year's Cambridge International General Examination A'Level exams at my school.
I have also attended series of short course and training both within and overseas on child rights, youth development, lobbing, networking, peace building, effective communication and advocacy, and currently I am doing online studies with Berkley University in the US on Communication Studies.
Speak Africa is a UNICEF initiative that  began in 2005 and has now brought together many of the major partner agencies co-facilitated by the African Child Policy Forum to institutionalize Speak Africa as a multi-partner platform.
Speak Africa is a pan-African youth-focused communication strategy and multi-media platform; it is not a project or a programme. It is for youth exchange, in order to improve opportunities for meaningful participation and development of children and youth on the continent.
The Speak Africa platform is recognized by the African Union and UNICEF as a mechanism to assist in institutionalizing the participation of young Africans and channeling of their potential towards development of themselves and the continent.
Speak Africa helps to mobilize and build bridges between youth and youth; to build capacities of youth to participate in their own development; through media and advocacy, to amplify the voice of youth; to increase the alliance between youth and elders and decision-makers; and to strengthen partnerships, and share resources and experiences around children's agenda.
UNICEF Speak Africa platform first began with the concert for the commemoration of Bob Marley's 60th birthday. The concert attracts Pan-African intellectuals, youth, artistes, musicians, cultural heritage development artists, who were brought together to discuss a lot of issues about youth development, gender and African integration.
The music and the cultural activities were tools for people to express themselves and share information.
The African Development Forum (ADF) on 5 in November 2006 was the next opportunity to present a pan-African youth agenda.
The African Union recognized the potential of this platform and incorporated it into the post-ADF 5 Committee.
That committee continues to provide oversight for Speak Africa, at least for 2008, the Year of the African Youth and an assessment on how to move beyond 2008.
Community journeys and the use of celebrities is one of the strategies that have been incorporated into the UNICEF Speak Africa platform, where musicians were giving messages through their music.
Furthermore, the likes of Yvonne Chaka Chaka, Danny K, Godessa and other renowned artistes and Goodwill Ambassadors have been invited to participate in a musical concert of the platform
Advocating on specific issues and engaging with youth at community level has taken place in Ethiopia, Tanzania and in South African, in the townships.
In May there was a UNICEF Speak Africa consultation meeting and in August, we went to South Africa and met with a lot of the major media partners.
After these major meetings, training and media partnerships, UNICEF Speak Africa is now becoming very more exciting.
My role is to raise awareness about children's rights, support UNICEF's Speak Africa campaigns and help empower my peers and other vulnerable young people to take action on issues that they are passionate about.
Working with UNICEF to advocate, protect and enforce the Convention on the Rights of the Child (CRC), UNICEF – Speak Africa is actively involved in implementing activities to achieve the following objectives:
I also serve as an envoy to strategic partners and satellite agencies and organizations, participating in media interviews and press conferences and updating UNICEF Speak Africa website.
There also have been UNICEF Speak Africa activities across the continent, through keeping the momentum of the platform alive in local contexts and formalize country-specific activities.
I have also liaised with the UNICEF SAS to develop new content including the production of media materials (articles/blogs, photos, video and audio features), as it pertains to the local context, through the Speak Africa Secretariat (SAS) through the guidance and supervision of the UNICEF Country Office.
I also undertake outreach and communications initiatives through UNICEF Voice of the Youth Project and Young People Media Network geared towards ensuring equal focus and representation related to national, regional and continental needs, challenges and activities.
I have contributed and participated in capacity building – including partaking in available UNICEF Speak Africa e-courses; where possible, translating and facilitating the e-courses and also maintaining close contact with  UNICEF technical advisor for Speak Africa and country office on  future plans and projects.
I intend to initiate as well as to network with other youth Spokespersons on the continent.
Read Other Articles In Article (Archive)