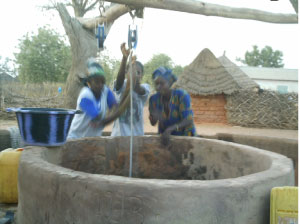 The community of Youna Angelleh in Upper Baddibou district, North Bank Region, have appealed to the authorities and NGOs to help them get access to clean drinking water.
In a recent visit to the area, this reporter spoke to members of the community who complained that they "have no access to clean drinking water" in the village.
According to the community, they use donkeys to fetch water from their local wells which they use for drinking and other purposes.
The well water they say is not really safe to drink but they have no alternative as there is no other source from which to get drinking water.
Speaking to our reporter, the Alkali of the village, Kebba Bah, who was visibly dismayed, said he is highly sympathetic about the way and manner in which his village community, particularly the women, suffer in trying to access water for drinking and other domestic purposes.
The Alkali stated that the importance of access to clean drinking water cannot be overemphasized as without it their health is at risk.
According to the Alkali, the deep of their local well is more than 33 metres and not all their animals are fit to be used for the fetching of water from such a well.
He stressed the need for the government to provide them with a pump or pipe water facility to ease their burden and improve their health situation.
The chairman of the village development community, Demba Bah, expressed similar sentiments, while emphasising the need for his community to have access to clean drinking water as they are equally part of the country.
The vice chairman of the committee, Juldeh Bah, also called on the government to help them with at least a local pump.
Read Other Articles In Article (Archive)