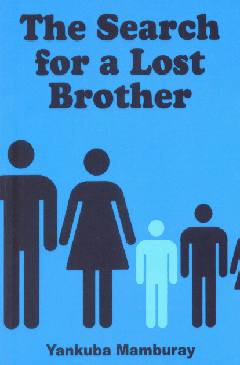 Yet another young Gambian has published a work of literature, enriching the country's literary out put. This is another piece of good news coming out of this country.
This is a true story about Yankuba Mambauray, born in Kombo Lamin, now residing in USA. The story narrates this odyssey from Banjul to Liberia in the early 2000s in search for his long lost elder brother and family. Yankuba took leave from his bank work, to spend a month in the wild wilderness of war torn Liberia to look into the whereabouts of his brother who had left home since 1966, and was believed to be in Liberia. Yankuba ably takes us through the preparations of the trip, his arrival in the rowdy and dilapidated MonroviaAirport, page 64, his entry into the battered Liberian capital and his journey deep into the rebel infested forests of LofaCounty in search of Demba. The author ably describes the tight emotions of joy, disbelieve and mistrust that ensued his coming face to face with his elder brother and his harem.
Even before that he takes us through the countless of checkpoints manned by Taylor's so-called army and the rebels who prowled the hinterland in search of loot, rape and easy target. His sermon to the bribe demanding Liberian security officials at one check point, page 78, where he berated them for treating him like a criminal, makes enjoyable reading.
Indeed, a large part of the book takes the reader through the Liberia tragedy; although a chunk of it also takes us to the streets of Banjul, Lamin, Brikama and Malaysia, and the USA, where the author currently resides. Thus there is a multiplicity of spatial settings, which is another strong aspect of the book.
In many ways the book is a travelogue, in other ways it is autobiographical. Therefore it is an admixture of personal experience and family experience.
This is an adventurous, edifying and gripping story weaved together seamlessly with tact and literary adroitness.
The book is available at Timbooktoo, Tel. 4494345.
Read Other Articles In Article (Archive)