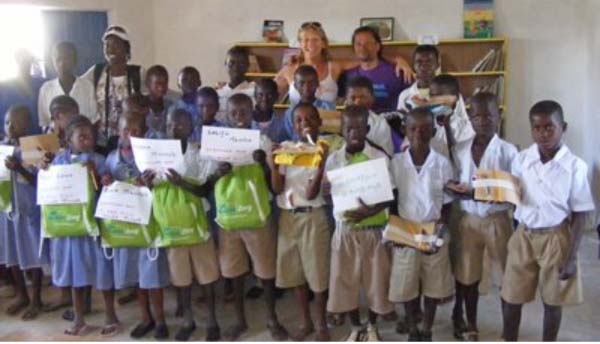 Yagana World Foundation, a Dutch charitable organisation sponsoring 38 students in Makumbaya Lower Basic School in West Coast Region and other 16 students across The Gambia on Monday 20 January 2014 gave learning materials to its sponsored students in Makumbaya Lower Basic School.
On the same day at Makumbaya Village, the foundation donated learning materials to Makumbaya Community Nursery School as part of its contribution to the development of education in the country.
Founded by Dinemarie Langereis, a Dutch national, the Foundation has been operating in The Gambia since 2000.
Yagana World Foundation, which has operated in The Gambia for 14 years now, has since its inception in the country been supporting education, agriculture, health, sports and other  sectors of development.
The Foundation has since its inception been very supportive of Gambian students, especially those in the Lower Basic Schools.
Mr Derek Kent from N.C.C in Apeldoorn, Holland, who is currently sponsoring 10 students at Makumbaya Lower Basic School, is set to open a pharmacy at Makumbaya Village, where there is no clinic or health centre.
The reason for opening the pharmacy is to help address the needs of the villagers who walk kilometers from Makumbaya to the neighboring villages for medical attention when they fall sick, he said, adding that they will hire a nurse who will be responsible for attending to patients by offering minor tests such as Malaria amongst others and also treating them.
Mr Kent also bought a brand new generator for the pharmacy which will help in preserving some of the medicines in a refrigerator as some will require to be kept in a cool place.
Mr. Kent also runs a football academy in Holland called PRO FUTSAL. The Foundation also donated a sewing machine, carpentry tools, footballs, football pumps to the Alkalo of Makumbaya Village. Kent who is also sponsoring clean water supply for family usage and gardening in Latrikunda, also donated a set of jersey to Makumbaya Lower Basic School.
Mr Kent said apart from the scouting of talents for his academy in Holland and the various projects he is supporting in The Gambia, he also has projects in other countries.
He has donated 15 footballs and football pumps to all the football teams in schools Yagana World Foundation is sponsoring students.
He also donated jerseys to Bakoteh Upper Basic School where Yagana World is sponsoring 7 students, and has also supplied the school with school materials and 20 computers.
Speaking at Makumbaya Community Nursery School, Isatou Jammeh, headmistress of the school, said the school started from a long journey by going through some difficulties but that thank God they are here now.
"We are managing, the community is poor but managing to take care of the school," she said, adding that that was why they made the school fees reasonable so everyone could pay and have access to education.
Lamin Sanyang, headmaster of Makumbaya Lower Basic School, said Yagana World Foundation has been supporting the school well before he was appointed headmaster of the school in 2010, adding that the numbers of sponsored students increase each year.
Speakers on the occasion included Kebba B. Kujabi, Alkalo Makumbaya Village, Malang Jammeh- Chairman Makumbaya Community Nursery School and Modou Manneh, a citizen of Makumbaya Village who all thanked the donors and prayed for them for good health and long life. 
Read Other Articles In Article (Archive)