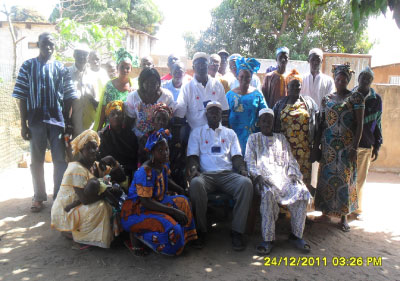 A  local NGO called Youth Action for Food Self-Sufficiency and Education (YAFSSE), in collaboration with The Gambia Red Cross Society, at the weekend organised a day-long sensitization workshop for members of three Village Development Committees (VDC) in West Coast Region on promoting human rights and international humanitarian standards linked to Socio-Economic Rights (access to safe drinking water).
The forum was sponsored by the EU in partnership with the Spanish Red Cross Society.
Speaking at the opening ceremony, YAFSSE director Buba Senghore said the workshop targeted community elders, members of the water committees and some VDC members.
He added that the workshop was held to observe the communication between the two parts, to enhance positive interaction between the people and their representatives through a better sharing communication as well as to put into practice knowledge gained from the workshop. 
Mr Senghore told participants that the workshop dwelt more on socio-economic rights, known as 'generation or red rights', which covered issues that dwell on survival and development and provision of basic necessities of life as food, water, shelter, health care, education and social security.
The YAFSSE director said their would be group discussions where a case study will be conducted of a collapsed water tank in Makumbaya, whose outcome is to empower the villagers to know their socio-economic rights and other major issues for implementation.
"YAFSSE has been working with the catchment villages of Makumbaya for the past years, to which all of you are a living witness, with the installation of our water tank project under your doorsteps, which are still in operation," Mr Senghore remarked, adding that the workshop was organised to complement the efforts of The Gambia government.
The Gambia Red Cross Society is no stranger in this world; they are everywhere in the world, the YAFSSE director noted, while thanking their sponsors and the Gambia Red Cross Society for their good relationship with his NGO.
Mam Babou Sowe,  programme coordinator of YAFSSE, dwelt on the main classification of human rights, which include civil and political rights, developmental and environmental rights, and economic, social and cultural rights.
Fatou Gaye, acting-program coordinator of The Gambia Red Cross Society, told the participants that her office sponsored the workshop to help communities know their rights so their children would "not suffer in future".
She called on the parents of the area to send their children to school, especially the girl-child, saying: "Give equal education facility and health care to both the boys and the girls without any discrimination because it is their fundamental rights to education and health and other human rights."
Landing Jammeh, Pa Colley and Kebba Jammeh, all participants, commended YAFSSE for organizing such a workshop for them, describing it as "very educative and timely", while Nyillan Gomez gave the vote of thanks on behalf of the participants.
Read Other Articles In Article (Archive)