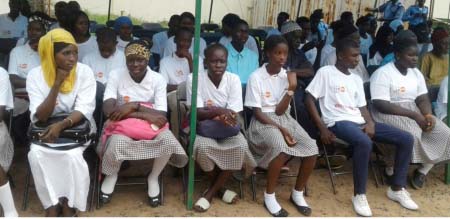 The Gambia has joined the rest of the world on Thursday to commemorate World Population Day on the theme 'Investing in Teenage Girls'.

Speaking at the commemoration held KMC ground, Jaja Cham, KMC director of administration, said in The Gambia, reports has shown that the teenage girls represent quite "a very important percentage" of the population which makes it "very important and worthy it to invest on them".
He said the society needs to play a vital role in the development of girls by giving them the right education and not to expose them to things that will interrupt their transition from teenage to adulthood.
Kanifing Municipal Youth Coordinator Adama Sabally said investing in teenage girls for a greater future is as complex as it is controversial because it follows the transition from childhood to adulthood.
He noted that discussions that centred on the welfare of teenage girls will help to facilitate behavioural and greater change and reduce the misconceptions surrounding the use of contraceptives.
Mr Sabally said today, the population is faced with problems confronting young people in Africa such as teenage pregnancies, unwanted teenage motherhood and sexual transmitted infections.
United Nations Population Fund country representative Kunle Adeniyi said this year's theme for the commemoration of World Population Day is to raise awareness of the plight of teenage girls around the world.
The commemoration was to also bring to the fore the greater challenges girls encounter compare to their male counters and the need to address such challenges.
"Teenage girls face multitude of challenges compared to their male peers and in many countries a girl who reaches puberty is ready for marriage with the resultant teenage pregnancies and childbirths," the UN diplomat said.
"Many girls who are given out for marriage are prone to many diseases and it is also a denial of the girls' fundamental human rights."
Deputy Mayor of KMC Momodou Jaiteh said teenage girls without education have little or no chance in controlling their marriage life.
"We all knew from the society that those who got married early finds it difficult to really control their family sizes," he said.
Read Other Articles In Article (Archive)