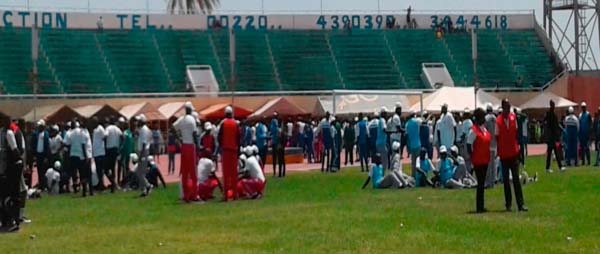 May Day is celebrated worldwide on May 1st each year and The Gambia is no exception in observing this all-important day and occasion.

Thousands of workers from all over the country gathered yesterday at the Independence Stadium in Bakau to observe the day.
The workers organised a tug of war, a symposium and a musical jamboree in commemoration of the day.
Others workers, as in other countries around the world seized the opportunity to demand for better working condition and service at the workplace.
Other workers even took to the streets to protest for increment of their wages and salaries.
Speaking at the celebration, the Minister of Youth and Sports, Henry Gomez, said the road leading to this day has been rough.
Minister Gomez further congratulated the Gambian workers who are ready to act as agents of change in the struggle to develop the new Gambia.
He said The Gambia has witnessed some difficult times that have a direct impact on the people's daily lives and urged all and sundry to use the opportunity wisely and make new friends no matter where they work, which tribe they come from or what political party they belong to.
"We will agree that without peace and stability in The Gambia, we will find it very difficult to achieve the development we want for ourselves and our country," he said. "Therefore, it is important we use platforms like this one to preach peace, tolerance, understanding, forgiveness and reconciliation."
Speaking on the occasion, the secretary general of the Gambia National Trade Union, Ebrima Garba Cham, congratulated all workers for their immense contribution to the socio-economic development of the nation.
Cham said May-Day celebration is not only for festivities but also an occasion that provides the opportunity for sober-reflection and "the renewal of our adherence to the principles upon which the international accords and protocols are premised".
He noted that an environment conducive for work goes beyond the demands for adequate remuneration and ideal working conditions.
"It requires unity of purpose, among and between workers and employers, in the protection and promotion of various interests," he said.
Mr Cham stressed that The Gambia National Trade Union Congress is alive to the reality of poor working conditions, exploitation of employees, unlawful and or unfair terminations, irregular employment contracts, unpaid claims as a result of industrial accidents and unreported cases requiring compensation.
Read Other Articles In Article (Archive)