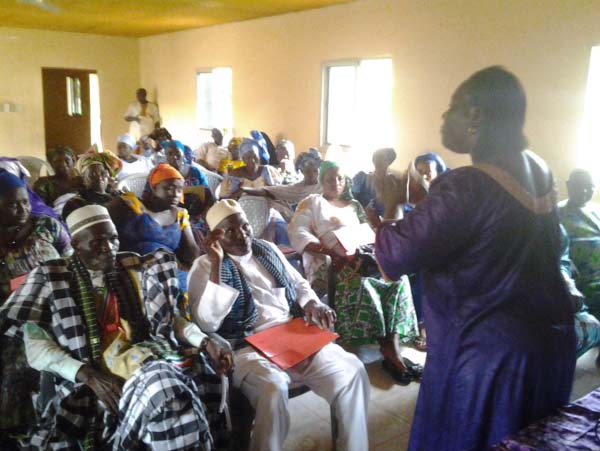 An official of Women's Bureau has noted with concern the frequent and high rate of wife beating in the Gambia nowadays.
"Wife beating is very common in our society," said Neneh Touray, information, education and communication officer of Women's Bureau, the country's highest women's body.
Madam Touray made this statement during a consultative meeting on gender-based violence with special emphasis on wife beating, which was bankrolled by UNICEF and held in Wassu Community Centre in Niani District, Central River Region north.
The women's activist said reports have revealed that gender-based violence is high and it does not help in any way to solve any family problems.
"The best way to solve problems among families, communities and societies is to engage in dialogue," Madam Touray said.
She noted that some of the greatest challenges to the attainment of the fundamental rights and freedoms of women are deeply rooted in the foundations of tradition.
For instance, she noted, 75 per cent of women aged 15-49 believe a husband is justified in beating his wife/partner under certain circumstances.
Isatou Jeng, project officer at Girls Agenda, in her presentation, said the rate of domestic violence is alarming and wife beating is the most common form of such violence in The Gambia.
She said aside from physical effects, wife beating has emotional and psychological effects on women, children, the family as well as communities at large.
According to Ms Jeng, many people believe that wife beating is accepted as part of normal life and "if such a trend continues then efforts to end it will be frustrated".
Tabu Njie-Sarr, programme officer of TANGO, said gender-based violence occurs in all societies of the world, within the home or in the wider community and it affects women and girls disproportionately.
It has implications for socio-economic development, she noted, adding that fighting against gender-based violence is "already high" on the international health agenda.
Gender-based violence is said to mean any act that results in or likely to result in physical, sexual or psychological harm or suffering to women including threats of such acts, coercion or arbitrary deprivation of liberty whether occurring in public or private.
Mrs Njie-Sarr said it encompasses, but is not limited to, physical, sexual and psychological violence occurring in the family, including battering, sexual abuse of female children in the household, dowry-related violence, marital rape, and female genital cutting.
She noted that non-spousal violence and violence related to exploitation such as physical, sexual and psychological violence occurring within the community are perpetrated by closed relatives and other criminals within the society.
Read Other Articles In Article (Archive)