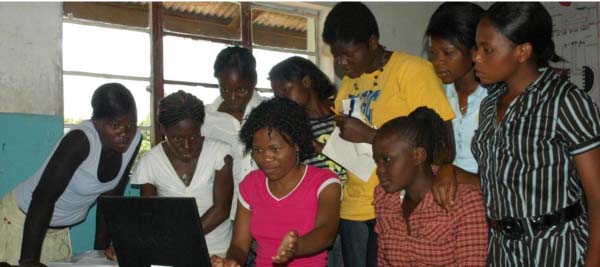 At least 50 women from different backgrounds are undergoing a weeklong training programme on the use of information technology applications to better enhance their lives and livelihood.
The training, underway at GRTS IT training centre located at the GRTS complex in MDI road, is funded by the Nigerian Technical Fund and implemented by the African Development Bank in partnership with the Directorate for Technical Cooperation in Africa.
The training of Gambian women, which started on Tuesday, is part of a bigger package targeted at women in Africa to increase and improve their technological development, and social and economic progress.
Professor Godson Chukwuma, a trainer and one of the organisers, said the first phase of the training was implemented in Ghana and Nigeria.The second phase, which is being implemented now, is for The Gambia and Ethiopia.
"The training is aimed at empowering women on the use of IT to enhance their skills in whatever they are doing to make a living," he said.
Professor Michael Mbanaso, a member of the organisers and also a trainer, said the training is targeted at women of different background and skills.
"We target low-skilled women, medium skilled women and highly skilled women," he said."The highly killed women need it for professional development to improve their skills.The big madam needs to know how to use PowerPoint to make presentation; she doesn't need a secretary to do that for her and the training will help such women to do that."
Women in business can use the skills they would gain from the training to increase their revenue generation and those that are looking for or working on to build a career can use the knowledge in building their career.
The training package is said to be designed for seven grade reading level but organisers said preference is given to those who complete secondary school as the minimum to participate.
"The benefits of the training are unlimited because you can apply the knowledge and skills gained to any career; it does not matter what you are in," Professor Mbanaso said."If you are a chef, like one of the participants said she wants to be, you can use IT application; if you are a caterer you can use IT; if you are working for government you can use IT to enhance your work.So in essence, you can use IT in whatever you are in or want to do."
The university professor noted that IT is indispensable in today's global market economy.For him, no one can do anything without IT.
By exposing women to the field of IT and its application, they would be more prepared and be in a better position not only to take part but also to compete in the global market environment.
Professor Mbanaso said without IT, it is going to be difficult for African women to excel since they lag behind men in all sectors be it economy, politics, education and even in career development and access to money; men dominate the system.
"Women are just relegated to the backyard but this training seeks to empower them so that they can catch up and be self-reliant," he said.
By the end of the training, it is expected that women who are IT-phobia would develop interest in IT applications.
They (the participants) would be given hand outs, how-manuals, that they can use after the training, at their workplaces or at home, to self-practise some of the applications to further improve.
Read Other Articles In Article (Archive)