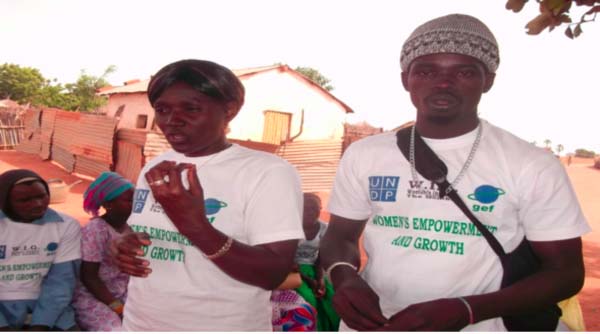 As part of efforts to minimize the problems of plastic waste in the country, Women Initiative The Gambia recently launched a new project in the communities of Yundum, Jarreng Passy, Njau Jaha and Wellingara Alpha in the Upper Saloum and Nianija districts in Central River Region North, a project supported by the UNDP-GEF Small Grants Programme.
In her launching statement, Ms Isatou Ceesay Trawalleh, stated that plastic bags are hazardous materials and could be very dangerous for domestic animals or livestock when consumed.
It also has negative effects on farmland and the environment, when buried or burned, she said.
The waste plastic bags dirty the environment, and could be dangerous to livestock when they are consumed, she emphasised.
She further stated that in order to maintain a clean environment by controlling the plastic bags waste, a waste plastic bag recycling project has been established in Njau village in Central River Region North, aimed at empowering women and young people in acquiring livelihood skills to better improve their living standard and become self-employed.
According to her, the project has three components namely, environmental protection through recycling waste plastic bags, bee keeping as a means of income generation and job opportunity for young people and woodlot development, to be implemented within twelve months targeting the said communities in the districts of Upper Saloum and Nianija in CRR North.
Mrs Ceesay Trawalleh further revealed that the project was established in 1997 in collaboration with Peace Corps volunteer in that community.
Highlighting some of the achievements, Mrs Ceesay Trawalleh said, since 1997 the project has trained hundreds of women and youths in various skill disciplines such as waste plastic bags recycling, soap making, and tie and dye, as well as a training of trainers and they have trained hundreds of women in the past few years.
Some of those trained now also run their own small enterprises and earn their living from the skills acquired, she said.
She also stated that despite the tremendous achievements realized by the project in the past few years, the project faces constraints of mobility, and appealed for assistance.
Ms Ceesay Trawalleh commended and urged the women to make best use of the centre, as some pay their children's school fees and medical bills from the proceeds they earn from the centre.
Seyfo Alagie Malick Mbaye of Upper Saloum spoke at length on the importance of women and youth participation in skills acquisition and development, in the area of waste management and environmental protection.
He applauded the GEF for funding such an important project, stating that the project intended to empower women in this country, especially CRR.
He noted that The Gambia's development strategy, the Programme for Accelerated Growth and Employment (PAGE 2012-2015), has envisaged a strong role for civil society, as well as for women.
Chief Mbaye said over the years, civil society has become an important channel for the delivery of social services, and the implementation of development programmes and complementing the efforts of the government.
Eliman Ceesay, a community-based facilitator for the project, said plastic waste is a national problem, which is a matter of concern to the authorities.
He added that in their efforts to reduce plastic waste, they decided to recycling plastic bags and turn them into finished products sold in markets to generate income, rather than burning or burying the plastic, which has negative impacts on flora and fauna.
Read Other Articles In Article (Archive)