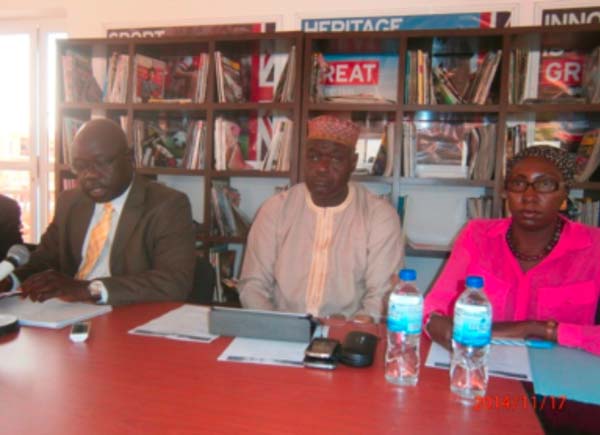 A six-day global entrepreneurship programme by the American Chamber of Commerce (AmCham) has just started in earnest in commemoration of Global Entrepreneurship Week (GEW).
AmCham Gambia joins the world in celebrating the GEW on the theme: "Celebrating women in entrepreneurship development; celebrating the Global Angel Investors Day".
In the course of the week, AmCham is set to host a series of events and activities which would be capped with a gala dinner/award banquette on Saturday at the Kairaba Beach Hotel in Kololi on the theme: "Insurance as a veritable instrument for sustainable business development".
The activities would include courtesy calls on the Vice President of The Gambia, US Embassy charge d' affaires, minister of Finance, Governor of the Central Bank of The Gambia, insurance institutions, unveiling of first WED Ambassador of women's entrepreneurship day, and a two-day radio talk show.
Briefing journalists ahead of the weeklong programme of activities,AmCham president Alh. Abdoulie M. Touray said female entrepreneurship takes center stage this month as Women's Entrepreneurship Day is launched on 19 November 2014 as part of the GEW.
The day is an opportunity to celebrate, engage and empower female entrepreneurs, he said, adding that in many countries around the world women remain an untapped economic potential.
"According to the International Labour Organization, there are 812 million women living in developing countries with the potential to contribute more fully to their economies," Mr Touray said.
"Furthermore, there is a direct correlation between the policies in place to support women, the opportunities available to women and women's success in business."
In developing nations, empowering women to be entrepreneurs helps reduce poverty for women, their families and their communities.
The AmCham board president also said the recently released gender Global Entrepreneurship and Development Index (GEDI) found that in nearly three quarters of the 30 countries surveyed, "conditions" for female entrepreneurship and business growth were "unfavourable".
This year, GEW is driving a worldwide movement to engage and support female entrepreneurs, he said, adding that the over 50 countries that take part in GEW will be encouraged to organize and promote events on Wednesday 19 November that focus on advancing female entrepreneurship.
AmCham Business Development and Entrepreneurship manager Alieu Jallow told journalists they had just completed a successful entrepreneurship week training exercise, which attracted more than 100 participants from all the regions of the country.
The training session, he said, was geared towards improving the knowledge of and assisting young entrepreneurs from the grassroots level.
Mr Jallow highlighted a business incubation initiative, which is an intervention sector of AmCham, brought in for Gambian youths to guide them on how to be job creators and not job seekers.
The incubation programme is geared towards creating a platform for youths to develop their ideas into tangible and viable businesses.
AmCham CEO Kebba Njie and board member Mrs Saffie Jobe also spoke on the occasion.
Read Other Articles In Article (Archive)