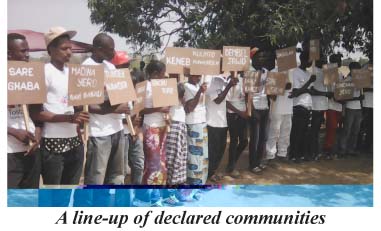 Aja Juma Trawalleh, a member of the national women councillors in Kantora, on behalf of her colleague councillors, has appealed to UNICEF to expand its Community Empowerment Programme to other parts of the Upper River Region and beyond.
"I am appealing to UNICEF to provide more support for the expansion of UNICEF-Tostan Community Empowerment Programme because the programme has improved the living conditions of the local people," she said.
Madam Trawalleh made this appeal while giving her remarks at a "massive declaration" ceremony for sixty-two Fula communities in Tumana, Kantora and Jimara, who solemnly and voluntarily declared their intention to abandon the practices of Female Genital Cutting (FGC), and early and forced marriages within the region, held at Sareh Talata recently.
Councillor Trawalleh further underscored the importance attached to Tostan, saying the NGO had demonstrated keen interest in the improvement of the Gambian women and the livelihood of its local communities.
He also applauded UNICEF-Tostan Community Empowerment Programme initiative for "the good things they are doing" in the communities. 
According to Tostan officials, prior to the declaration, the communities had undergone a three-year training session under the community empowerment programme covering modules on democracy, good governance, human rights and responsibility, problem-solving process, and health and hygiene.
Demba Mballow, Alkalo of Sareh Talata, said based on the existing policies, acts and protocols, harmful traditional practices are a violation of fundamental human rights and dignity for all, especially women and girls.
Sainey Cham of Women's Bureau hailed the communities for voluntarily abandoning FGC and early and forced marriage.
He told the communities that there are punishments attached to FGM in the country while urging them to adhere to what they openly declared.
Alfusainey Sabally of Sareh Talata, in his declaration, said they have undergone series of sensitisation programmes on human rights and responsibilities, democracy, problem-solving, health and hygiene modules, which led to "this historic declaration".
He said their declaration aims to reinforce the national movement for the promotion of human rights in The Gambia, Africa and the world at large.
"We join the historic movement that started in Dasilameh Mandinka in Sandu District of URR on 15 June 2009, which has not ceased to shine in URR where about 181 communities have now abandoned the practice of female genital cutting and child marriage to protect and promote women and girls' health and sexuality," he said.
Morro Krubally, ward councillor at Julangel Ward, said:  "Today, we are witnessing another important milestone as a testimony of the achievements registered by our communities that are present, most of whom have participated in the community empowerment programme jointly implemented by Tostan-UNICEF and the Government of The Gambia in sixty-two Fula communities in URR." 
Read Other Articles In Article (Archive)