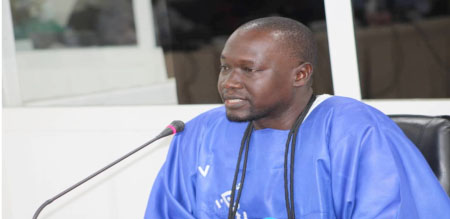 Yunusa O.S. Ceesay from Njau village, yesterday testified before the TRRC revealing that he was part of an Islamic religion sect that does not observe the five daily prayers as advised by their marabout leader Shiekh Muhammadu Habiboulai Secka alias Ndigal.

Ceesay, a management information system and networking expert, explained his relationship with Kerr Mamat Ali, saying his mother came from their clan and at that time, the head of the village was his grandfather.
He testified that during his visit to Kerr Mamat Ali, he used to meet a marabout called Muhammadu Habiboulai Secka alias Ndigal who would help him with some charms whenever he was to sit for exams.
"The marabou's father was Sheikh Basirou Secka who established Touba Saloum, Touba Secken, Bondali and Kerr Mamat Ali, and his son Ndigal was asked to stay at Kerr Mamat Ali in 1982 till he died in 1998."
He said the marabout was a spiritual leader and his way of worshiping Allah, after the third day of 'Tobaski' Eid, was to have a Ziyareh (visit) by preaching to his followers about Islam. He added that the marabout's fundamental way of teaching Islam was about the true path to Allah, which simply means strengthening oneness of Allah.
He said they don't observe the five daily prayers but do fast, do Zikar which they believe is the highest form of worshiping Allah.
"In the other way of worshiping Allah, we used to Zikar while calling Allah's name and clapping."
He said he was connected with the marabout because he used to conduct research about God since his childhood. He added that the marabout used to help him in whatever he wanted.
"Ndigal was followed by more than 5, 000 people because others used to come from satellite villages. We used to submit ourselves to him and swear our allegiance. In doing so, we used to give him about D2 or so and he would pray for us. All the villagers were his followers."
He informed that their sect is from muridism in Senegal, which he said they are more of Bai Faal than any other religious sect. He added that they stopped praying and focus only on Zikar.
Witness testified that they believed Ndigal is the one who replaced Shiekh Ahmadou Bamba in the world and is the leader of the present generation.
Ceesay indicated that their corpse can be only buried during evening time at 8 p.m. In terms of initiating marriages, he further stated that their bride price is from the word 'Nurr', meaning light, which gives around D23, 000 as the bride price and women do chose their own husbands.
In a daily newspaper article dated October 2002, which was showed to him, indicating that a self proclaimed God had been arrested by the police. This was his (witness) marabou Ndigal. He, however, said that was a serious allegation against their sect.
Counsel Faal asked him whether Ndigal had ever proclaimed to be God? He, however, replied in negative.
Asked whether they have a similar Kaba and Zamzam (water) as the case of Makka, he said they have a praying place in the bush and a well called Rahmatulahi, which contains spiritual water that can be used for healings.
Read Other Articles In Article (Archive)