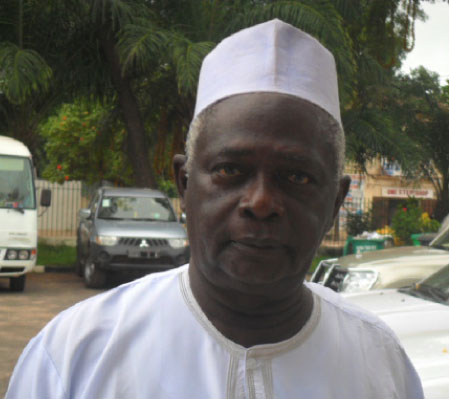 Welcome to another edition of Personality of the Week, the weekly column which profiles Gambians and non-Gambians alike whose contribution to the development of The Gambia should be celebrated.
In today's edition we bring you the profile of the current National Assembly Member for Janjanbureh Constituency Honourable Foday Jibani Manka who is a historian and a former educationist and in addition to his leadership role; Honourable Manka is engaging himself in research work, becoming a consultant on the history of Janjanbureh, a small Island in the central River Region (CRR).
Professional work experience     
Honourable Foday Jibani Manka was born in George Town in 1942 to the late Momodou Manka and late Jabou Sidibeh. He attended the Methodist Primary school from 1949 until 1955 when he was admitted to Armitage Annexed Post Primary school. He sat to the scholarship entrance examination for entry to Armitage High school in 1957 now called Armitage Senior Secondary school both at George Town. Upon completion of his secondary school course, he entered the then Yundum Teacher Training College where he obtained a Primary school Qualified teacher certificate in 1964. Honourable Jibani Manka taught in general Primary schools across the country until 1976 when he was awarded a scholarship under the Commonwealth Fellowship scheme to read a Diploma in educational studies at the school of education, University of Leeds in the United Kingdom. On his return in 1977, he continued to serve as Headmaster in several schools until his retirement from active service in 1977.
Not feeling tired after retirement, Honourable Foady Jibani Manka chose to return back home where he played a leading role in social, cultural and political development of his community. He became the current chairperson of George Town Development Committee, member of the Parent Teacher's Association of Armitage Senior Secondary School, member of the Committee of GAMSPAD Skills Training Center and member of the Community Forestry Committee both in Janjanbureh town.
Honourable Manka had the support of his uncle the late Musa Sanyang who was educated but died in 1960 by then him (Honourable Manka) was in form four.
"He sent me to school from Primary one to form five and I did not encountered much difficulties during my school career because I was sponsored by the Local government so my parents did not pay my high school fees while I was at Armitage High school now called Armitage Senior Secondary School" Honourable Manka told Personality of the week columnist.
Honourable Manka said he was a teacher for thirty-five unbroken years, that was from 1964 to 1997 and in 1997 he retire as a teacher and decided to go back home because he felt that he was not tired considering his age by the time he retired which was fifty-five. "At the age of fifty-five I was still active and strong and I was very much interested in the development of my town (Janjanbureh) and after settling at my town I started research of the historical events and sites within the Island of Janjanbureh"  he said.
He did not forget about his mentors like the late Musa Sanyang for nurturing and helping to shape his future during his formative years, late Alhagie Jay Malang Saidy, for inspiring and encouraging him to write the history book about Janjanbureh called "A History of an Island Community from 1800 to date" and to the present future generations of Janjanbureh children who are expected to make Janjanbureh Island better than they found it.
His book is a groundbreaking work on the history and cultural heritage of a Gambian Community called Janjanbureh and Honourable Manka's book highlighted the Island settlement's contribution to The Gambian history and tradition.   Honourable Manga was fortunate that his town Janjanbureh has been cradled for education apart from Banjul describing his town as the second capital city when it comes to education because of Methodist Mission who opened the school in his town 1835 this is why Honourable Manka was educated. Since then the citizens of Janjanbureh including Honourable Manka have access to education easily. 
According to Honourable Manka Janjanbureh has a very rich historical, cultural and traditional history noting that Jangjangbureh has contributed positively to the development of The Gambia. Honourable Manka described Janjanbureh Island as an Island with a very vibrant in culture this is why he wanted to bring out those things and teach the young one's to know their history and cultural history which are very interested that was why he even wrote a book about the history of Janjanbureh.
His political career
When he retired in 1997 as a teacher, he contested for the 1997 National Assembly elections for Janjanbureh constituency through UDP ticket with APRC's Daddy Kebba Dampha and lost. During 2007 National Assembly elections he contested through APRC ticket against Kebba Yira Manneh and he (Manga) won and he also contested through the PARC ticket in 2012 National Assembly elections against Kebba Yoro Manneh and won too.
According to Honourable Manka, seven APRC supporters applied for the 2012 National Assembly elections to contest for the Janjanbureh seat but luckily for him he was selected among the lots to contest for the 2012 for the said year elections in the said constituency.
Honourable Manka said after being in the UDP for several years, he realized that he should join the ruling APRC party which actually for Honourable Manka, are doing what he intended to do for the people of George town i.e. to bring development for the people of The Gambia and in particular George town. For Honourable Manka politics has no permanent friends and no permanent enemies this is why when he realized that APRC party is in the right track he decided to join the majority of his people for better. This was the reasons why I cross-carpeted from UDP to the ruling APRC party in 2006 and he is a member of the following committees: National Assembly Puplic Accounts and Public Enterprise Committees PAC/PEC, National Assembly Education and training and IEC, ombudsman, Local Government and tourism and culture just to mention some.
Development under his tenure as NAM
Am interested in bringing the people of Janjanbureh under one umbrella for the betterment of the town despite their political differences because the people of the town have that close knitted extended family relationships. "Politics should not divide the people of the town which has that uniqueness of the people of Janjanbureh Island and during my tenure as NAM President Jammeh has built Sankulleh Kunda Bridge which our forefathers were yeaning for, so thank to Jammeh's regime" he stated. "I also brought in my constituency, UNESCO funded project implemented by the National Council for Arts and Culture (NCAC) called the "Kankurang Centre" and also Janjanbureh skills training centre which was built in 1995 with the aims of assisting the school drop-out within the my constituency and Central River Region in general. This training centre will give them skills that would help them in their future career. "The skill centre will also encourage them to stay in their constituency rather than migrating to the urban areas to search for better jobs" Honourable Manka concluded.              
Read Other Articles In Article (Archive)