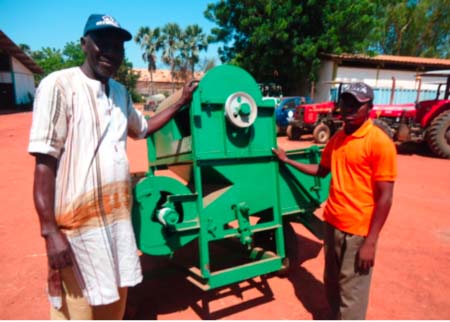 The Agricultural Engineering Unit of the National Agricultural Research Institute (NARI) recently supported the Boiram Innovation Platform of rice farmers with a threshing machine, which was locally made in The Gambia.
The gesture was in pursuit of Vision 2016 for the realisation of the food self-sufficiency drive, which responds positively to President Yahya Jammeh's agenda to end the decades-long importation of rice in the country.
According to NARI officials, this also helps in providing effective and efficient service delivery in order to boost agricultural production and productivity.
It was the first time a locally-made thresher was presented to farmers by NARI, to ease famers work, save time and energy, as well as reduce post harvest losses of crops.
Speaking to this reporter at the rice field in Boiram village in the Central River Region, Mathew Gomez of NARI said his unit constructed the threshing machine, and it was brought to Boiram to help farmers thresh their rice, after a good harvest this year and threshing was a problem.
All along the farmers have been using manual methods such as the drum and stick, which results in a lot of post-harvest losses.
"We think the introduction of the machine that we constructed will ease the post-harvest losses, and save the farmers time and energy," he said, adding that this was why they are in Boiram to do the testing process for the rice farmers, and that everything was fine in terms of the operation.
He said everything was facilitated by the Africa Rice Centre based in Benin, which has a branch in St. Louis, Senegal, and which has links with many countries including The Gambia.
The centre designed the machine and organised training sessions for private sector operators, and their contact persons are the research institutions in the various countries, Mr Gomez said.
NARI been in agricultural engineering as well, and in charge of the agricultural engineering unit was consulted to nominate a trainee, Gomez added.
One Ebou Kebbeh, a local workshop operator, was nominated for the training course held in St. Louis in Senegal, as he was already involved in making milling machines, threshers and in similar activities.
Mr Kebbeh returned to The Gambia and organised training activities for local artisans, and can now build the threshers locally.
Alhaji Basirou Bouye, a master famer, on behalf of the villagers thanked NARI the threshing machine provided to them.
The machine was timely and necessary considering the post-harvest losses famers are facing in their rice fields, Bouye said, adding that this year the Boiram Innovation Platform of Rice Famers would have a bumper harvest of rice and maize.
He assured the NARI officials that the threshing machine would be used, and would have a great impact on their livelihood.
Read Other Articles In Article (Archive)