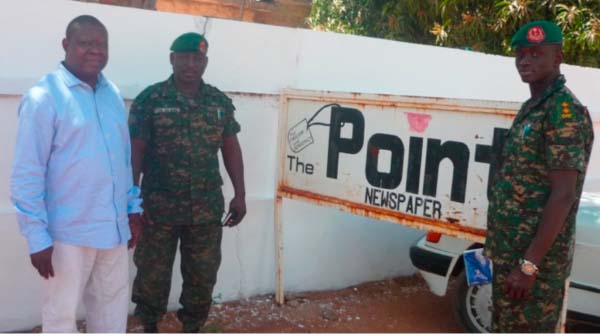 Lieutenant Colonel Omar Bojang, Gambia Armed Forces public relations officer, has said that whatever they do, they do it in the interest of peace and stability in the country.
GAF PRO Bojang made this remark yesterday at The Point office, as part of a familiarisation meeting with the management of media houses in the country.
PRO Bojang appealed to The Point to support and collaborate with them in selling their programmes, and also informing the public on the critical role the security forces play.
"Without peace and stability nothing is possible," he said, adding that the reason journalists sit in their offices and write stories is because there is peace.
"People go to market, visit churches and mosques to pray, go to work and sleep knowing someone out there is watching to ensure there is peace.
"We are all one, and we want people to understand that," Bojang said.
On the media, he said, sometimes the media would call them trying to clarify certain issues, but the media have to understand that in security not everything is exposed.
He said sometimes the person arrested was just a lead in an ongoing investigation, adding that the moment the press begins to write on that person his associates will try to escape.
He further explained that sometimes the first person arrested was not the criminal, and they have to take him or her into protective custody, knowing that people are following him because he was material evidence.
"We apprehend criminals and investigate matters because we want to make sure criminals are out of the streets," he stated, while seeking the collaboration and patience of the press.
"In as much as you have the right to write, we have the right to protect national security, which is key and crucial for the development of the country," he pointed out.
"Whatever we do is for the interest, peace and stability of the country."
He also thanked media houses for their long years of dedicated service to the country and, more importantly, for their support to the Gambia Armed Forces.
Philip Kotey, General Manager of The Point newspaper, in his remarks, said the press sometimes blows things out of proportion, adding that "it is an irresponsible way of doing things."
According to him, they would not allow the press to be pushed somewhere, "because when someone is pushing you, you should think about your credibility and responsibility."
He admitted that most reporters are young in the profession, and that is why they would always advise them that they need the attention of seasoned journalists to guide them.
They have the UNESCO project which is meant to address issues like that, he said, adding that the training courses, hopefully, would start by the end of this week in order to address all those issues.
"There cannot be peace without security," Kotey noted.
"We have to be careful about how we address certain issues; security has its own ways, and we should not try to compromise it by bringing a situation of insecurity."
He expressed delight about the meeting, and called for responsible journalism and assured the army PRO of The Point's support and collaboration at all times.
Kemo Kanuteh, GAF deputy PRO, in his brief remarks, said they look forward to a cordial working relationship with the press.
He added that it is always better to clarify issues before going ahead with certain stories.
Read Other Articles In Article (Archive)