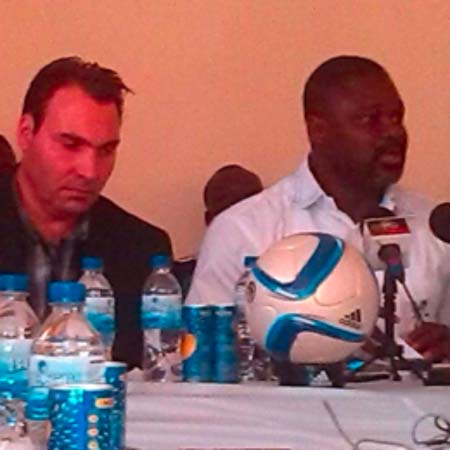 Lamin Kaba Bajo, president of the Gambia Football Federation (GFF), has said they have found what they were looking for in a coach, such as Raoul Savoy.
Found in the newly appointed head coach of the Gambia senior national team are affordability and the quality to deliver result in discharging his responsibility.
Mr Bajo, who was speaking at the GFF Secretarial yesterday during the unveiling of the Scorpions coach, said they want to see the Gambia qualify for the World Cup and Africa Cup of Nations but have to be reasonably ambitious.
They are trying to build a foundation that can last, he went on, saying the coach would start working on a team that can compete at all levels, but at the same time he is also expected to work with existing core of technicians to ensure all sectors of football development are covered.
When they met Mr Savoy they found out that he was already in touch with a number of foreign-based players and have already established contacts with some of them and their coaches, "which is a step ahead and a sign that he is interested", he pointed out, saying they have a list of 21 Gambian foreign-based players they have identified and are being contacted to represent the country in the forthcoming qualifiers.
They have received a positive response from all the players they have contacted and are ready to play for The Gambia, he also said.
Except for those whose league would prevent them from coming, foreign-based players are expected to start assembling in Banjul by 1st June as part of preparation for the first Afcon qualifiers game away to South Africa, he added.
Arrangements have been made and confirmed that the senior national team will camp in Uganda where a test match will be played with that country's national team, he said, assuring all that they are working round the clock to deliver results.
"Mustapha Carayol, who is one of the most profiled Gambian foreign-based players, star player Modou Secka Barrow, Macoumba Kandji, Pa Amat Dibba and many more have all consented to represent The Gambia," he confirmed, saying their coming to join the team would make a big difference in the performance of the Gambia squad, as they strive to take the country to glory.
Describing the unveiling of the new coach as a momentous occasion in their calendar of activities, Bajo added that they live within a society and hear, see and know the expectations, uneasiness and impatience of the general football fraternity in terms of what they are doing. "But it was better we take our time and do a good job than rush and bring an incompetent coach," he said.
Since taking office in September they have done a lot, which is not easy to accomplish in 8 months, he highlighted, saying the process of appointing a new coach for the senior national team took long but they had to be patient to do a good job for the Gambian people and the football fraternity in particular.
He said they are also working on arranging a training camp for the CHAN team in Morocco ahead of their game against Senegal, adding that they know what is at stake and "will not sleep until the job is done".
Coach Savoy, he said, has signed a 2-year contract with effect from 14 May 2014.
He therefore thanked Government for the invaluable support, encouragement and guidance it gave them in discharging their responsibility.
Raoul Savoy, in his remarks on the occasion, thanked the Gambian President, the youth and sport ministry, NSC, GFF, his technical team, the media, and the general public for the trust bestowed on him by giving him the responsibility of coaching the Gambian national team.
It is a honour for him to be head coach of the Gambia national team, he said.
While highlighting the high level of duty given him, he was quick to say he would do his best to bring proudness to Gambian people, with the help of his technical team, the GFF, Government, players and the media.
"With everyone's support we can do a great job in the very near future," he stated.
He had been working two months prior to the day of unveiling him not because he was sure of being the coach but because he knew it was going to be risky securing the job without having knowledge of the players, he said, adding that he know the level and background of most Gambian foreign-based players.
He said he would also be on the look out to recruit and develop potential and good local-based players.
The former Central Africa Republic coach said his task is to use the right system and players to win.
"The first two games of Gambia's qualifiers will give us the way," he said.
Abdoulie 'Star' Jallow, Chairman Technical and Development Committee and GFF first vice President, in his remarks, said they have been working towards seeing the day of getting a good and sound coach like Raoul for Gambia's national team.
He took time to explain how the selection process was done, saying they had close to 20 applicants and to be transparent they copied all CVs and gave them to each member of the technical and development committee to study and scrutinise for a week.
They later came up with a meeting to select the final three, he further explained, saying: "Raoul was selected because he is the best candidate among the three."
He is a well-qualified coach with both UEFA A and B Licence as well as a Swiss certificate, he said, adding that he has coached in Africa and has versed experience as a coach.
"We are impressed with his knowledge of football," Star Jallow said. "He wants to coach The Gambia because we have better talents."
They selected coach Savoy due to his qualification and experience, he noted, whilst calling on all not to expect too much because the Federation is new and football has been away for some time (going through normalisation). "Football is a process and stages," he added.
Marcel Mendy, executive director of National Sports Council, speaking on behalf of the Ministry of Youth and Sports, said the occasion was a day they had been longing for and working towards, as it was tedious getting the right the coach.
They are pleased with Savoy's credentials, he added, saying: "At the moment the reality is that he is the best we can afford, which is why we got him on board with the hope that together we will be able to move Gambian football to another level."
"We are confident we are on the right track," he went on, saying, "Mr Savoy has gotten the qualification and experience, which is why he is being appointed.
The Gambia used to be on the same level with some African countries but for some reasons "they have been able to gallop ahead of us", he observed, saying: "We want to catch up with them, which is why it took long searching for someone we think is capable."
"It is better we have the best coach than to rush things and have a coach perhaps I can do the job better than," he remarked, adding they are convinced Mr Savoy has got what it takes to coach the team to higher heights.
He appealed to everyone to give Government, NSC, GFF and Raoul the support required for them to do a good job in achieving the dreams of Gambian football, which is moving Gambian football to another level.
"Raoul is a good coach but if we do not give him the necessary support it will be difficult for him to succeed," he went on, congratulating him on his new appointment for the job.
He assured Savoy, GFF and the general public of their commitment as Government and Ministry responsible for youth and sports matters.
He also said they are committed to moving Gambian sport to a level higher than it is.
"Government has always supported sport, football in particular, and we will definitely continue to support within our means," he said, adding: "Help us help Raoul give us the results."
Read Other Articles In Article (Archive)