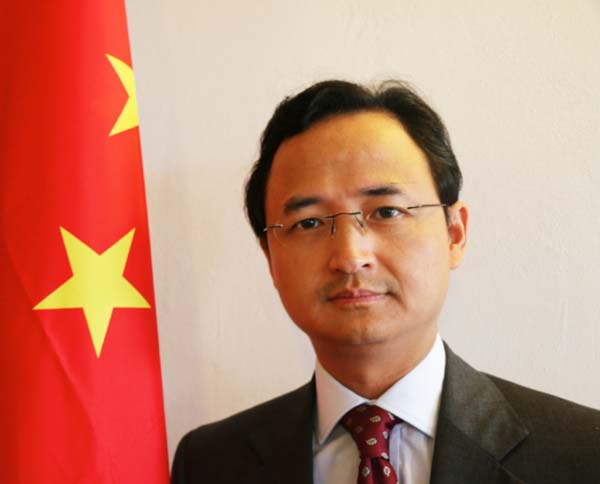 The annual sessions of the National People's Congress and Chinese People's Political Consultative Conference, known as "Two Sessions", are one of the most important events on China's political calendar every year. What are the key messages one could get from the recently concluded "Two Sessions" this year?

Firstly, China will continue to expand opening up.
The two sessions point the way to improving the strategic blueprint of China's opening up, and set the course toward a deeper and higher level of opening up.
China will push ahead with the Belt and Road Initiative, for example, by accelerating the building of overland economic corridors and maritime cooperation hubs and deepening international industrial capacity cooperation. Market accessibility for foreign investors will improve. Service industries, manufacturing and mining will be more open to foreign investment. Foreign-invested firms will be encouraged to be listed and issue bonds in China, and will be allowed to take part in national science and technology projects as well. By the end of 2016, China attracted more than 1.77 trillion US dollars of foreign capital. In 2016, China attracted around 118 billion US dollars of foreign investment. More measures have been announced to attract foreign investment with the promise of easier access and a better business environment.
"China's open door will not close." President Xi Jinping said at the two sessions that China will keep on opening up on all fronts, and continue to liberalize and facilitate trade and investment. President Xi's remarks echoed his speech at the World Economic Forum in Davos last January, in which President Xi said pursuing protectionism is like "locking oneself in a dark room." I believe, at a time when isolationism and protectionism are on the rise, China's openness will be the benchmark for continued globalization and China's opening-up policy has helped solidify its role as a key engine for global growth.
Secondly, China will carry forward comprehensive reform.
Since late 1970s, reform has remained a key theme of the country's development and nearly 40 years on, the reform drive is now in a deep-water zone -- many of the easier reforms have been accomplished, leaving difficult tasks. With breakthroughs made in reforms of major sectors and key links and initial success achieved in supply-side structural reform in the past year, China will deepen reform in all areas and move faster to advance fundamental and critical reforms to boost the internal forces driving development. The heaviest burden is to be shouldered, and the hardest bones are to be chewed on.
In 2016, 97 key reform tasks were completed, 419 reform plans were made, and frameworks for reform in major sectors were drawn up to address issues such as urbanization, poverty alleviation, innovation and the market's role in resource allocation. China will continue to transform government functions, reform fiscal and tax systems, advance reforms in the financial sector, deepen the reform of SOEs and take more measures to energize the non-public sector. More endeavours will also be taken to improve IPR protection system, push for progress in social system reform and deepen institutional reform to build a sound ecological environment.
Representing the common aspiration of the entire Chinese people, China's reform is an ever ongoing process and key to deciding the fate of contemporary China.
Thirdly, China will unswervingly endeavour to improve people's livelihood.
The well-being of the people is at the center of governance and all government work is for the people. China will prioritize efforts to ensure and improve the well-being of our people, spare no effort to deliver more benefits to the people wherever possible, and ensure that their basic living needs are met.
The top priority is poverty reduction. In 2016, about 12.4 million Chinese people shook off poverty. This year, China aims to reduce the number of rural residents living in poverty by over 10 million, including 3.4 million to be relocated from inhospitable areas and central government funding for poverty alleviation will be increased by over 30 percent. China will strive to boost employment and business startups. China, despite facing daunting challenges, created 13 million urban jobs and increased per capita disposable income by 6.3 percent in 2016. As Chinese Premier Li Keqiang said during the two sessions, China will not see nor allow massive unemployment of any societal groups as the government is capable of ensuring job creation. China will effectively strengthen environmental protection. Specific measures and goals have been set to settle environmental issues of public concerns such as tackling smog and control over exhaust emitted by motor vehicles.
Last but not least, China commits to building a community of shared future for all mankind.
China will remain an important engine for world growth amid sluggish global economic recovery. In 2016, China's GDP has exceeded 74 trillion Yuan (about 11 trillion U.S. dollars), representing a yearly 6.7 percent growth rate, seeing China topping most other economies and contributing more than 30 percent of global growth. China's non-financial outbound direct investment increased 44.1 percent year-on-year to 170.11 billion U.S. dollars in 2016, and Chinese companies invested in 7,961 overseas enterprises in 164 countries and regions in the past year. With solid material foundation, abundant human resources, huge market, and a complete system of industries, China is ready to face more complicated and graver situations including sluggish world economic growth and growing trend of protectionism and has the full confidence and capability to overcome the difficulties. China's economy would continue to be the growth engine and stabilizer of the world economy.
Among weighing uncertainties, China stands tall for certainty. China will shoulder its due responsibility. Over the past four decades, China has grown from an outsider and learner to an insider and contributor of global governance as its overall strength rises. China-proposed international mechanisms and institutions provide opportunities for many countries and bring mutual benefits to all participants. Under the Belt and Road Initiative alone, Chinese companies have invested 18.5 billion U.S. dollars in 56 economic and trade zones in countries along the routes, generating 1.1 billion dollars of tax revenue and 180,000 jobs in host countries. During the FOCAC Johannesburg Summit in December 2015, President Xi put forward ten major China-Africa cooperation plans as implementation priorities in the next 3 years, and arranged 60 billion dollars of financial support for this. The plans are being carried out steadily.
China will contribute to a shared future. Today, mankind has become a close-knit community of shared future. All countries enjoy the right to development and pursue it in a broader context instead of at the expense of others. China is ready to work with the international community to build a new type of international relations based on cooperation and mutual benefit, and make new contribution to building a community of shared future for all mankind.
H.E. ZHANG Jiming
Chinese Ambassador to the Republic of The Gambia
Read Other Articles In Article (Archive)