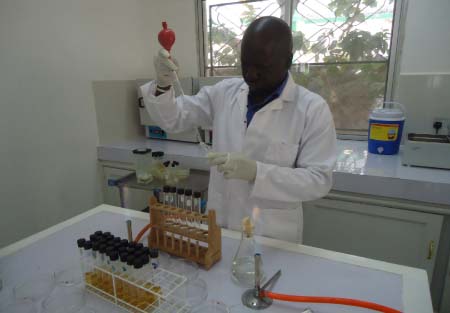 In The Gambia, West Africa Quality Programme has been working to support the competitiveness and harmonization of TBT (Technical Barriers to Trade) and SPS (Sanitary and Phyto-Sanitary) measures in the country. 
The Programme is working in a number of areas, including trade economic analysis, strengthening testing laboratories, standardization, inspection, quality management, and consumer affairs.
The programme has been supporting the country with technical assistance in the processes leading to the establishment of The Gambia Standards Bureau (TGSB), the Food Safety and Quality Authority, to upgrade such aspects as the national quality system and development of a draft national quality policy, the accreditation of selected testing laboratories, the certification for enterprises, and the development of a draft Consumer Rights Legislation.
It also supports stakeholders in the celebration of international events such as World Standards Day, World Metrology Day and World Consumer Rights Day.
WAQP closely collaborates with the Ministry of Trade, Industry, Regional Integration and Employment, its line ministry, the National Codex, Sanitary and Phyto-Sanitary Committee (NCSPSC), other relevant ministries, government agencies, stakeholders in the private sector and civil society organizations.
Meanwhile, developing countries benefit economically from an increase in their exports to regional and international markets. Thus, strengthening their capacity to participate in the export trade is critical for their future economic development.
However, to compete in international markets, it is not enough for countries to increase the volume and range of the products they sell; they also have to compete in a global trading system where increasingly stringent requirements apply with regard to product quality, safety, health and environmental impacts.
Exporters, therefore, need proof from internationally recognised institutions to show that their products conform to these requirements.
Hence the need for countries to develop robust national and regional quality infrastructure to ensure that their products satisfy acceptable standards for trade, food safety and quality.
The WAQP is an EC-funded and UNIDO-implemented regional programme for the development and improvement of quality infrastructure in the ECOWAS (non-UEMOA) Member States and Mauritania.
The other non-UEMOA ECOWAS countries under this Component two Programme are Cape Verde, Gambia, Guinea, Sierra Leone, Liberia, Ghana and Nigeria.
It specifically intervenes in five technical areas, namely accreditation, testing/metrology, standardization, inspection and quality management.
The overall objective of the programme is to assist in the establishment of national and regional quality infrastructure and to contribute to greater regional market integration and increased participation of ECOWAS/UEMOA countries and Mauritania in international trade.
The Programme has developed a regional work plan detailing activities and timelines to be undertaken within each of the eight participating countries in collaboration with international consultants and the Regional Support Unit.
At the level of each country, national work plans and budgets have also been developed. The WAQP is implemented by UNIDO with Programme Management Unit at UNIDO headquarters in Vienna, a Regional Support Unit in Abuja, Nigeria, and in each country a National Technical Coordinator and National Steering Committee.
Implementation of the activities of the Programme is undertaken by various parties concerned with the Programme.
At the national level, activities are being implemented in close collaboration with national stakeholders and beneficiaries in the various private sector industries, civil society organisations, ministries, government agencies, laboratories, trade and professional organisations, and economic operators in the country.
Read Other Articles In Article (Archive)