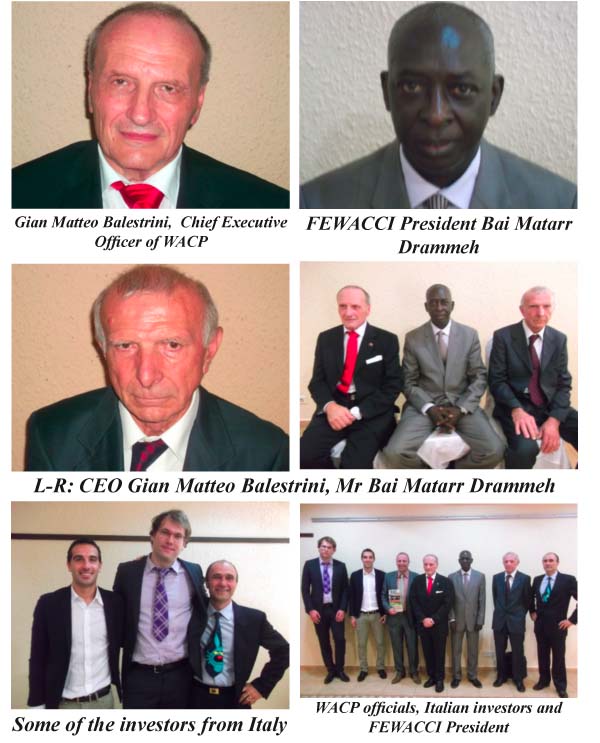 The West Africa Constellation Programme (WACP), in collaboration with the honorary Consulate General in Italy, S. Marino, and Federation of West Africa Chambers of Commerce and Industry (FEWACCI) on Tuesday 14 October held a daylong investment forum at the Senegambia Beach Hotel in Kololi.
Speaking at the ceremony, Gian Matteo Balestrini,Chief Executive Officer of WACP, said the objective of the forum was to enlighten and engage the Gambian public and private sectors on the opportunities of possible partnership with European companies, namely Consorzio Sintesi, Arnaboldi Interiors, and Essea Impiant, Franchi Spa, Zust Bachemerier, Ecsa/Minolta, and OMC Collareda just to mention a few.
Some of the business intervention areas are agro-industry, construction, real estate/housing, hotels, energy, hospitals, pasta factory, transport, financing, water plants and furniture and office equipment, he added.
The idea was not only to partner with Italian or Gambian investors, but to also facilitate financing for Gambians in the areas of agriculture, infrastructure, transport, health, and energy, among others.
Bai Matarr Drammeh, president of FEWACCI, stated that investors from Italy are in the country to find out about investment opportunities, and are ready to work and partner with Gambian companies.
"Investors coming from Europe and elsewhere will be able to access information at the forum that could enhance their decision making to invest in the country," he said.
He added that organizing the forum was evidence of their desire to promote foreign direct investment from Europe to The Gambia, which seeks to ensure the transfer of technology and facilitate job-creation opportunities for the youths, especially in this country.
According to Mr Drammeh, WACP was initiated to support Gambian companies, based on the fact that the country is limited in terms of finance, and these investors have money and are ready to finance any potential company.
The forum was also meant to explain to Gambians the opportunities available and how to access them.
"We need the funds and market links, they are prepared and willing to finance any investment but we must be prepared to make best use of the opportunity," he said.
WACP was established to bridge links between Europe and West African member countries through sea and air transport.
The goal is to make Banjul a business hub, where goods will be brought from Europe and people will come to buy these goods without travelling to India or Dubai.
The one-day forum witnessed a series of presentations by various experts from different disciplines, which was followed by a question-and-answer-session, and one-on-one meetings between the participants from The Gambia and Italy, as highlighted below.
Enzo RACANO of COSMONT said his company was founded in 1988 and it serves several hundreds of small, medium, large business and public organizations both in Italy and the world at large.
For Arnaboldi Interiors company, Angelo INTERIORS said they deal in furniture furnishing hotels and villas in all types since 1932, and the company was founded by his grandparents.
MrIng DINO DALLA FINA said OMC is a company founded in 1974 as a mechanical workshop, specialized in manufacturing of stainless steel equipment for third companies.
He added that in 1983 it began to design and manufacture its own equipment for water treatment, beginning with gravity self-cleaning sand filters; later enlarged its production range of equipment for sludge and water treatment till.
DAF Systems deals in floatation and sedi-floatation units, mechanical rotating filtering system, screening system, and has achieved huge experience both in industrial and civil applications, thus becoming an international leader in the sector.
Santo FAILLA of Essea Impiant said their company dealt with electricity and water plants, especially saving energy and promote renewable energy.
Giving the vote of thanks on behalf the participants, Yankuba Saidy, Project Development and Appraisal Manager, said the forum created the opportunity for match-making, for Gambian companies to forge a relationship with European companies to do better.
Similarly, Gambian companies who want to tap into the European market and do not have the opportunity due to stringent entry requirements of EU can now take the opportunity to forge a partnership to be able to access the same markets.
Read Other Articles In Article (Archive)