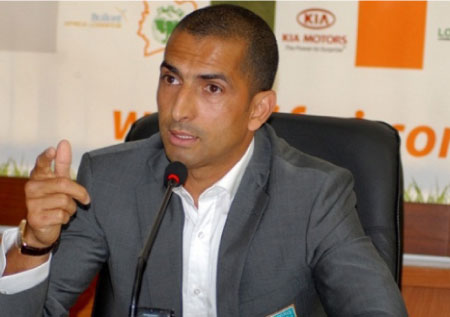 Elephants Coach Sabri Lamouchi has called on the need to respect the Scorpions despite coming out triumphant during the first leg in Ivory Coast in March in the 2014 World Cup qualifiers.
The Elephants, who expected to be in Banjul on Thursday, are on top of group c with 7 points.
On his impressions of Gambia in an article carried on the Ivorian Football Federation website www.fif-ci.com  while speaking to the press on Friday, Coach Lamouchi said: "Our first confrontation against this selection went well. Despite that there were nine new players in our ranks, we beat Gambia (3-0). The hardest part was to score against the team that plays there. It can cause us problems on set pieces. We must respect this team."
On the Gambian team he added: "I even felt that this selection will be more difficult to play than Tanzania. It is clear: we should not take this game lightly. Play Gambia and Tanzania is not so exciting but it is very important to take six points.
"To my players, I will ask them not to put their clothes but their light blue heater. Because if it is believed that it will be a cakewalk, it is wrong. My goal is to ensure that everyone is involved in the battle and that brings the maximum points. And for that, people 100% physically and mentally affected by the timing of our. We will have to focus because in Gambia, in difficult terrain, the battle will not be easy. "
In his preparation match against Gambia, the coach said they started preparing from Tuesday as there are players who are already in Abidjan.
"We start preparing from Tuesday. There are players who are already in Abidjan. They will all be there on Monday. We chose to prepare this match," he said.
"I think the moment we play in Africa, there is no reason why we do not prepare in Côte d'Ivoire. The matches will be approaching critical stages. No aspect will be spared during this preparation. I need six points in our two outings against Gambia and Tanzania. Gambia particular, it will evolve over difficult terrain. This means that we should not neglect the adverse environment. "
Read Other Articles In Article (Archive)