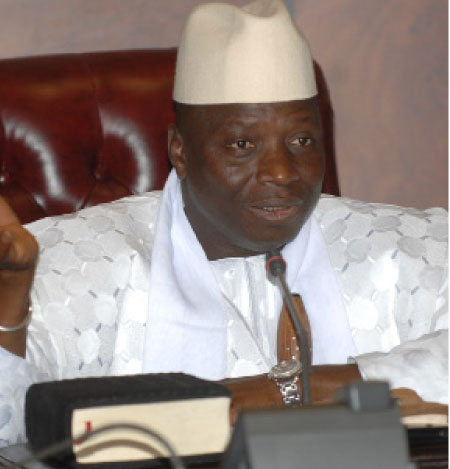 President Yahya Jammeh has again called on Gambians to work together regardless of political, religious, or ethnic affiliations to make more progress and collectively confront our challenges. He also called, in his latest statement, on Gambians in the Diaspora to join hands to develop the country for the benefit of the younger ones and for prosperity.
President Jammeh was speaking last Thursday in a statement delivered on the occasion of the state opening of the National Assembly for the 2013 legislative year.
"In spite of amazing achievements that continue to bewilder many, both at home and abroad, a lot more can be achieved if we do not rest on our laurels or become complacent in the difficult task of nation-building, which is a continuous and relentless process," he said.
According to him, it is only in coming together and working together as a nation that we can realize our noble goals and aspirations.
Finance and Economic Affairs
Outlining his government's plans and priorities for the year 2013, President Jammeh said The Gambia in 2011 experienced one of its worst droughts in years, which caused crop production to drop by about 60 percent and GDP to contract by 4.3 percent.
The drought and its impact on the lives of the people propelled the government, with the help of its development partners, to intervene by providing food, seeds and fertilizer to mitigate the effect on the poor and the vulnerable in our society, especially the farmers.
"Manufacturing weakened in early 2012, especially groundnut processing, and construction remained weak throughout the year. Despite pressure on food prices and a weakening of the Gambian dalasi, inflation remained under control – at 4.9 percent year-on-year in December 2012," he added.
President Jammeh also recognised the fact that The Gambia continues to face a heavy debt burden, with interest on domestic debt consuming 21 percent of government revenues in 2012, up from 18.5 percent in 2011.
"Including external debts, interest consumed a little over 25 percent of Government revenues in 2012, up from 22.5 percent in 2011. In addition, as of end 2012, the stock of domestic debt, much of which consisted of treasury bills with maturities of one year or less, stood at about 34 percent of GDP, up from 33 percent by end 2011," he stated.
He noted that although the payment of interest on debt is a huge burden on the Gambia government, prudent fiscal management was ensured through proper management of the debt portfolio.
Trade, Industry, Regional Integration and Employment
On Trade, Industry, Regional Integration and Employment, the Gambian leader said further reforms will be pursued to improve the business and trading environment, and to promote investment for private sector development and enhanced consumer welfare.
Part of these reforms, he noted, will be tied to a new Legal Metrology Bill to replace the current Weights and Measures Act of 1977 and a consumer protection legislation, both of which will be presented to the National Assembly in 2013 for enactment.
"While the Legal Metrology Bill seeks to strengthen the regulation of weights and measures in trade, and extend the scope of legal metrology to cover the regulation of measuring devices, the Consumer Protection Bill will complement the government's efforts in creating a more predictable business environment, while enhancing consumer protection," he said.
He further stated that this bill will strengthen consumer rights to safe and quality goods and services, as well as ensure that goods sold in The Gambia comply with domestic and international standards.
"For effective implementation of these legislations, Government will adequately strengthen the implementing and enforcement agencies," he said.
Agriculture
On agriculture, President Jammeh said convinced that it is one of the surest ways to ensure mobility from our current level to a middle income economy, the government will not relent in the quest to make this nation self-sufficient in agricultural production.
While re-emphasizing the need for Gambians to go back to the land and grow what we eat, President Jammeh said the main thrust of the government's agenda in this important sector continues to be the attainment of not only food self-sufficiency, but also becoming a major player in the agricultural export market.
"This is a sector that has the greatest potential to provide employment for hundreds of thousands of people across all walks of life in this country and, thus, has the capacity to eradicate hunger in all its manifestations," he noted.
The Gambian leader announced that in the continuous effort to modernize the sector, the government is embarking on crucial projects, such as the National Agricultural Land and Water Management Development Project funded by the International Fund for Agricultural Development (IFAD) and the GAFSP Project, worth US$64 million and US$28 million respectively.
Tourism and Culture
"The year 2012 was an eventful year for the Tourism sector, as it witnessed significant improvements in air access, resulting in the introduction of new flights, notably Air Europa and African European Express, from Madrid and Barcelona respectively, Corendon from Holland, and Binta Canaria from the Canary Islands. Equally important was the start of operations by the Gambia Bird Airlines, a Gambian-German collaborative effort that now links Banjul with Spain, London and several West African destinations," President Jammeh said.
According to him, coupled with aggressive destination marketing within the sector, these developments have resulted in an unprecedented surge in tourist arrivals, noting that, in all, there was a 51 percent increase in tourist arrivals in 2012, compared to the previous year.
"Conversely, the destination continues to grapple with the challenges of providing adequate quality accommodation to tourists, in view of the fact that several of our two-star hotels have not met international standards," he stated.
"The recent transformation of the Gambia Hotel School into the Gambia Tourism and Hospitality Institute, offering diploma and higher national diploma programmes in tourism and hospitality, which are to be aligned with the University of the Gambia's degree programmes in tourism, will eventually meet varied human resources needs of the Gambia's tourism sector," he added.
In the area of culture, President Jammeh said arrangements are underway to institute a Collecting Society for the Gambia, which will seek to collect royalties on behalf of Gambian artistes.
Government, he said, is still pursuing the construction of a multi-purpose national theatre and vigorous efforts will be made during this year to obtain funding for this much-needed facility.
Health and Social Welfare
On health and social welfare, President Jammeh said this sector will continue to rank high on the government's development agenda, given its ramifications for meaningful socio-economic development.
He said with over 85 percent of the population now having easy access to health care within 5 kilometres of a health facility, and with the opening of new reproductive and child care outreach stations across the country, the quality of life and production of the populace continues to improve.
On HIV/AIDS, Jammeh stated that the government will continue its effort to reduce the prevalence of the disease by increasing support and care to those infected and reinforcing advocacy to prevent new infections.
"To retain staff as a means of sustaining excellence in the health sector, we will implement various schemes shortly, targeting public health care providers," he added.
Basic and Secondary Education
On basic and secondary education, President Jammeh said education, especially at the basic level, "remains a top priority on my Government's development agenda".
He noted that following the successful revision of the Education Policy (2004-2015), a sector-wide education strategic plan has now been prepared and government will incorporate a significant part of the costs associated with basic and secondary education, in its regular budget to cover recurrent costs, while engaging genuine development partners for possible funding of the financial gap.
He announced that in the interim, to reduce the cost burden of education on households, grants based on student enrolment, will be provided to all public lower basic schools with effect from September 2013. This, he added, will root out unauthorized levies on students in public schools from the 2013-2014 academic year.
He added that for the first time in the history of education in the Gambia, the teaching and learning of French will be carried out using locally produced materials depicting the Gambian culture and context.
Higher Education, Research, Science and Technology
"The Ministry will continue to deliver its core mandate of coordinating, facilitating and monitoring the provision of quality tertiary and higher education and the promotion of the Science, Technology and Innovation agenda in order to transform The Gambia into an economic superpower," President Jammeh said.
He noted that the University of the Gambia, Gambia College, Management Development Institute and the Gambia Technical Training Institute continue to play a pivotal role in addressing the skills and competency gaps in both the public and private sectors.
This, he went on, is evidenced by the increase in their enrolment rates and the introduction of new programmes.
Works, Construction and Infrastructure
"In recognition of the need for proper infrastructure to enhance rapid socio-economic development, Government will continue to develop public infrastructure, notwithstanding the tremendous progress in this area since 1994," President Jammeh said.
He revealed that the financing agreement for the construction of the Trans-Gambia Bridge was signed in June 2012 and ratified by the National Assembly and recruitment of a consultant for the project has commenced and the completion of this project will have a tremendous impact on movement.
"Relative to feeder roads, several studies are in progress for appropriate interventions in various parts of the country and these include works on a priority list of roads in Foni Kansala and Kiang West," he said.
Petroleum
On petroleum matters, President Jammeh said the government shall continue to provide an enabling environment to attract foreign direct investment in the sector, while encouraging indigenous participation in the petroleum sector, especially in the downstream sector, noting that currently, four offshore blocks and an onshore block have been licensed.
According to him, on the off-shore exploration, African Petroleum, the licensee of block A1 and A4 are required to drill an exploration well in 2013.
"In their plan towards drilling, the company has already conducted an environmental impact assessment and have an oil spill contingency plan," he added.
Forestry and Environment
The Gambian leader further told parliament that the Ministry of Environment, Parks and Wildlife and its line institutions have over the past year pursued policies and programmes aimed at conserving, protecting and developing our valuable forest resources for sustainable national development and enhancing livelihood.
He stated that as a way of protecting our biodiversity, the Department of Parks and Wildlife Management has finalized and validated guidelines for private sector involvement in natural resource management, adding that the guidelines will soon be disseminated to the public.
Fisheries and Water Resources
Commenting on the Fisheries sector, President Jammeh said the government will reinforce its efforts to implement fisheries development projects and programmes aimed at achieving the objectives of the MDGs and Vision 2020, through effective and sustainable management of our fisheries resources.
In the area of artisanal fisheries, he added, the government, in collaboration with its development partners, continues to provide fisheries infrastructural facilities, fishing-related equipment and means for fish preservation and distribution throughout the country.
Internal Security
On internal security and maintenance of law and order, President Jammeh said the Gambia police force and the entire state apparatus will continue to be vigilant to combat crime, and deter criminality in our society.
"Heinous crimes such as murder, rape and drug trafficking will be confronted with the full force of the law," he added.
President Jammeh noted that in recent times, there has been a spate of gruesome murder cases "which contravene the moratorium the government had put on the execution of people condemned to die for murder by our law courts".
This situation, he went on, is unacceptable and will lead to the moratorium being lifted without any further notice.
Noting that disputes should not be settled using brute force which often leads to fatalities, President Jammeh said we should rather seek peaceful resolution of disputes by resorting to law enforcement agencies and the law courts.
Youth Development
Further noting that youth development is critical for the progress of any nation, President Jammeh said his government will always work in the interest of the youth and promote their welfare through education, agriculture, sports, development enterprise and employment in general.
He said government will continue to encourage the youth to scale up agricultural production in all regions through youth farm initiatives, as a way of providing employment and training opportunities in the agricultural and fisheries sectors.
Defence
On defence, President Jammeh, who is also the minister of Defence, said The Gambia will continue to preserve and defend its territorial integrity and the safety and security of its people.
According to him, the strength of the Gambia's military and defence policies lies in the government's ability to build the capacity, improve training and logistics and in ensuring an enabling environment for the armed forces to deliver.
"At present, Mr Speaker, our region is threatened with major issues relating to terrorism and organized criminal gangs disguised as Islamist fundamentalists who carry out incursions in some of our neighboring countries, especially in Mali and its adjacent countries," he said, adding that the government's policy is to promote peace and to contain conflicts and insurgencies so as to pave the way for stability and development within our borders and beyond.
Foreign Affairs
Commenting on foreign affairs, President Jammeh said the government's foreign policy "remains guided by the purposes and principles of our national values and development aspirations, the charters of the United Nations and the African Union, on the basis of mutual respect for the sovereign equality, independence, territorial integrity of states and, most importantly, promoting, safeguarding and achieving the country's national socio-economic interests".
Read Other Articles In Article (Archive)