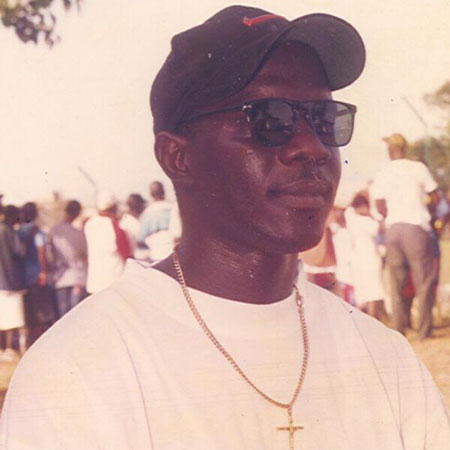 Sang Ndong, head coach Hawks FC, has said they must fight to finish in the top three this season, adding they must go for it.
Sang Ndong , who was speaking to reporters on Saturday at the Serrekunda East Mini Stadium following his side's 1-nil win over Steve Biko FC, added that their target last season was to finish in the top three but at the end they could not make it, finishing joint fifth with 3 teams and finishing seventh position at the end.
He stated that he was very much delighted over the victory in last year's league champions because they have not won Steve Biko for two seasons now.
"Last year Steve Biko won the league by winning us by a lone goal from a penalty at Banjul, so winning them today is a sort of revenge in a very positive manner," he said.
He described the win over the giant killers this time as a 'special one' because they have problems, like the captain of their team was sick and they brought one of their youth players to play and fortunately for him he scored the goal.
"So that is a problem for Pierre Gomez (his team captain) to come back into the team," he pointed out.
Head Coach Ndong also took time to praise Dawda Ceesay and Musa Bangura, saying they could give more than what they had given today.
"They are just lazy but can give far more than what they gave," he went on, adding: "They have not even 40 per cent of what I have seen in them."
"They are both very skillful and very young," he said of the two players, noting, "They have a long way to go, all they need is to learn to express themselves in match situations."
Asked his thoughts on the intensity of the game, he said, "Well it's always more physically and difficult to play when we play on the natural ground (grass pitch)," he said, adding that it is easier now to play on the artificial turf because the ball can roll smoothly.
"You don't need extra skills to perform on artificial turf but to play on grass pitch it is always difficult", he also said.
"I know Abdoulie Bojang (Steve Biko FC's Head Coach), he was my player and he is very discipline inside the field of play", he said Biko coach, adding, "he got his own temperaments but he is a very discipline man and he is very organise and like doing things his own way which I do admire the way he coaches his team".
Further asked what is working well for his side collecting 9 points from a possible 12 points, he joked- "I don't know; maybe it's three consecutive wins," he said, "we have not done this (win three games in a raw) for a very long time, I have not seen Hawks FC been consistent for a very long time but this could be attributed to rejuvenation of the team which is most of this players are young players, with most of them just finishing Grade 10 and 12 and we got some senior players still waiting on the bench."
"So it's a competition, if you do well you will play, if you do not do well you have to wait until your chance comes," he also stated, saying: "Unfortunately at times you are good but the team is winning; you don't have the chance to express yourself, so you just sit down and wait until things do not work which nobody wants because you are part of the team then you just step into the team".
Questioned about his team's target this season, he said, "we must go top three, we must fight for top three. Like last year we said top three but did not make it and finished joint fifth with 3 teams and finished seventh position."
"So we still going again for the top three," he highlighted, saying, this is a team they have been building for the past three years.
Everything just collapsed about some 3 years back when they got relegated to the second division league," he recalled, adding: "We had to recruit for young extra players from our youth team and using them now for three consecutive years. I think we are just beginning to see some of the fruits we yielding from this thing".
Their next game is the most important game again, he further stated, saying like when they play a game, the game ahead of them is always the best and the most important.
"That was what I told the players today, that we are going to play against Steve Biko the most important game for us and as soon as we finish Steve Biko the next game which is against Real De Banjul FC is the most important game and we are going back to prepare ourselves".
"It is a big game on Tuesday at Banjul because they won us in the pre-season, so it is a chance for us to prove ourselves; they are not better than us," he concluded.
Sainey Jarju, Steve Biko FC assistant coach, said collecting two points out of a possible 12 points does not put them under any pressure, adding that, they are doing all efforts to secure their first three points of the league.
"If we collect our first 3 points you will see a difference," he stated, adding that their team is one of the best and most mature in the league.
He remarked that the team is currently preparing for their trip to Tunisia for the CAF Champions League game, saying they can play with 'any team in the world'.
"We have a team to present anywhere", he pointed out, saying, their target would be to win in Tunisia.
Read Other Articles In Article (Archive)