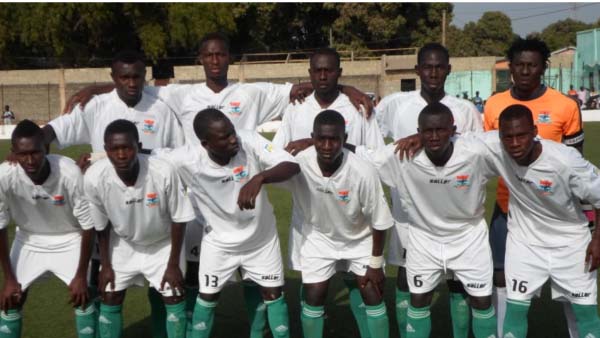 Kebba Touray, second vice president of Gambia Football Federation (GFF), has defended the use of 1994 born players by the GFF in the preliminary round of the CAF Youth Championship for Senegal 2015, saying they have not violated any rules and regulations.
Mr Touray, who was speaking to reporters on Saturday at the Independence Stadium following a goalless draw between the Gambia U-20 and the Senegalese U-20 in a friendly, added that "the Liberians are just claiming an unnecessary thing."
"We know we are in line with the rules and regulations in conformity with what CAF has set regarding the U-20 rules as a guideline," he went on, adding that they are within that framework.
"This is a preliminary; you can use 1994 born players because we say U-20 not U-19," he stated, saying they know the tournament proper will be held in Senegal in 2015 and whoever qualifies for the tournament will go with 1995 born players.
CAF has called for some of the players passports with their ID cards and local club licences to be scanned and sent, he said, adding that they have done as CAF requested and are now waiting for their response but said everything is ok because they are not violating the rules and as such are just focusing on the return leg against Liberia in Banjul.
"We are not even thinking about the appeal because we are in line with the rules and regulations," he remarked, adding: "We did not violate any rules and regulation."
Mr Touray also noted: "Be rest assured and we want every Gambian to know that whatever we are doing, we are doing it within the guidelines and the rules and regulations of the competition. We will not do anything silly that will get us out of this competition."
They are focused and want to make sure The Gambia U-20 team collect the maximum points in their forthcoming games against Liberia in Banjul.
He expressed confidence that the Gambia U-20 will "definitely qualify" because the performance they put up in Liberia will warrant them to do more at home and get the maximum points in order to get to the next stage of the qualifiers against Ivory Coast.
"I am hopeful Gambia will make it to Senegal," he also said, adding: "We have talented young players."
The rotation of players by the coach in the absence of team starters like Ali Sowe, Saloum Faal, Bakary Daffeh, Hamza, Sulayman Marreh among others, shows that The Gambia have a team capable of qualifying for Senegal 2015, he said, adding that with the absence of those players, the others can deliver good results.
"We all know how it is like to qualify in 2015 because Senegal are our closer neighbours," he stated, saying they will work very hard in making sure the team make Gambians proud by qualifying for the tournament.
The friendly was a very good preparation for the team as it was another build up for the Liberia game, said KK, as he is widely called, adding that they do not underrate any team.
"We respect them (Liberia) and no complacency, but we will work hard to beat them at home as we did away in Monrovia," he concluded. 
Read Other Articles In Article (Archive)