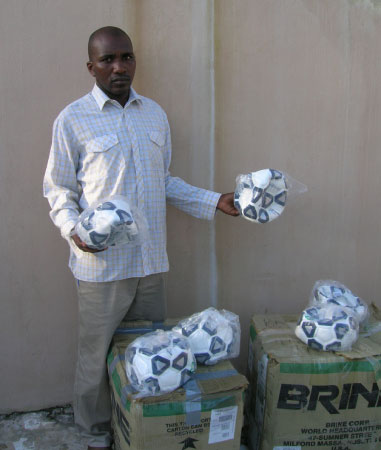 The Washington State Sports Association (WSSA) has given Kerr Mama Sport Committee 108 footballs as part of their effort to support football development in the area.
The relationship between the two associations started in 2007 through the initiative of Babucarr Jallow a native of Kerr Mama and referees in the USA and Mr TIM Busch president of WSSA.
Bai Dodou Jallow chairman of Kerr Mama Sports Committee said this was the third consignment of gifts sent to the committee; the first was in 2008 when 120 balls were sent.
"These balls were distributed to all the villages and schools in the Upper Nuimi District. The second consignment in 2010 included 11 goal nets. These goal nets were distributed to all the villages that participated in the 2011 Kerr Mama Nawettan," he stated
He explained that this latest gift of 108 footballs will be distributed to schools and villages in the same district.
"The support from WSSA is a big booster of the efforts of the committee as we bid to develop football in Upper Nuimi. It ensures that key materials like balls are available for use by the youths in our region, he added.
Jallow stated that, "the impact and effect of these gifts is difficult to imagine, as it is currently helping to bring the youths together to play football in all the villages. It also helps to strengthen the resolve of the Kerr Mama Sports Committee to continue to spearhead grassroots football development in the area. The provision of footballs to all lower, upper basic and senior schools in the region will help to develop football talents at a much earlier age."
"This is key, as these kids will be part of the pool of the next generation of Gambian footballers. On behalf of the people of Kerr Mama and of Upper Nuimi I wish to thank Mr TIM Busch and through him the WSSA in USA, and we promise that the materials will get to the proposed beneficiaries. We pray that this relationship will grow from strength to strength. We look forward to the visit of WSSA officials at some point for them to see the effect of their support to our region," he concluded.
Read Other Articles In Article (Archive)