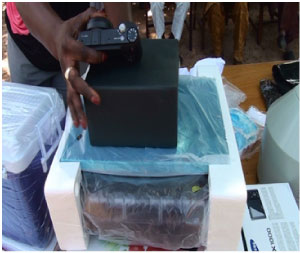 In their quest to help strengthening the pest management laboratory of the National Agricultural Research Institute (NARI), the West African Agricultural Productivity Programme (WAAPP) on Monday donated laboratory equipment to NARI.
According to officials, the items presented are worth 280,000, and includes a high power resolution digital camera, wall fixed TV screen 42 Inches- flat, multi- purpose printer, centrifuge, disposables gloves, cool boxes and large size for specimen cooling, among others.
Speaking at the handing over ceremony, the country project coordinator of WAAPP, Sheilkh Tijan Sosseh, said that WAAPP is geared toward enhancing agricultural production and productivity in the sub-region.
"Today it is part of activities where the capacity of NARI under component two of the project should be improved in terms of human resource training, in terms of infrastructure, equipment and facilitating NARI to be able to generate more technologies that will be disseminated  to farmers through the extension services to improve  agricultural production and productivity."
According to him, all the component activities have started progressing as a lot has been procured by the project for the smoothing running of the project at the project sites.
He further revealed to his audience that from the Spanish grant component through NARI, an innovation platform has been established and the idea behind it is as a medium to transfer technology to farmers that will improve agricultural production and productivity.
According to Sosseh, about two thousand farmers benefitted from this material which was provided through the WAAPP.
He said the WAAPP was as a result of complementing government efforts to address the crop failure in 2011, and during the beginning of 2012 farmers were having a shortage of seeds. The government has to do a lot to solve that, and it was  in response to that that WAAPPP played a key role in providing farmers with  seeds.
Sosseh also used the opportunity to thank the Spanish government for complementing the efforts of the government of The Gambia through the WAAPP.
He added that WAAPP will endeavor to strengthen all the laboratories of NARI in the country.
The director of research at NARI, Lamin Jobe, thanked the project coordinating unit and the management of WAAPP for strengthening NARI Laboratories.
He added that with the provision of this items showed their commitment, and collaboration among the extension staff and researchers.
Jobe asserted that the importance attached to these items cannot be overemphasized, as they will go a long way in boosting the laboratory system of NARI.
He then registered his appreciation of the materials given to NARI laboratory, adding that it will yield dividends and help them in making smooth their operations.
Read Other Articles In Article (Archive)