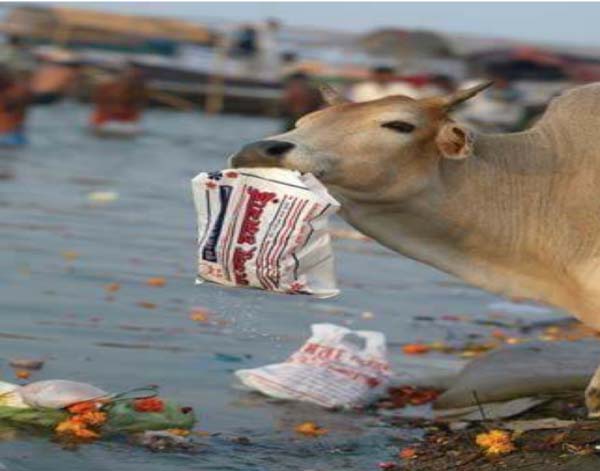 The continuous use of plastic bags threatens our food security as they resist decomposition for decades and become a virtual eye-sore in public places.
Most plastic wastes find their way into gutters and waterways and cause a blockage during the rainy season, and subsequently cause flooding in cities and growth centers.
Sheikh Alkinky Sanyang, an Environmental Education & Communication Officer, speaking at a recent nationwide sensitisation tour on the ban on plastic bags, said when plastic bags are burnt or used for fire lighting, which is a very common practice in the country, it releases dangerous chemicals such as Persistent Organic Pollutants which are casinogenic substances that can cause cancer and other life-threatening diseases.
Furthermore, he said, plastic bags are often misused by putting in them hot foods like "Ebbeh, Café Touba, Nan-Mburr" etc., underlining that the use of plastic bags to package hot foodstuff is very dangerous, as it releases the chemical content of the plastic into the food, and can lead to long-term health problems.
He said during this nationwide sensitization tour, many community radio stations were also utilized with phone-in programmes where keen listeners contributed to the programmes.
These local radio FM stations include Paradise FM in Farafenni, GRTS radio in Basse, Brikamabaa Community radio, Soma FM and Kaira FM in Kuloro.
These phone-in radio programmes had generated lots of listeners, who contributed through phone calls and expressed satisfaction on the ban.
Mustapha Touray, a senior security officer, told the sensitization gathering in Farafenni (Kerr Ayib) that the ban on plastic is a right move in the right direction, as it reflects on the dangers posed by the use of plastic bags on both humans and the environment.
He reiterated that plastic bags are non-biodegradables and can cause a serious threat to the fragile eco-system of the country and the environment in general.
This dire situation, he pointed out, warranted the Gambia government to completely ban the importation of plastics into the country with effect from 1st July 2015, and equally announced a zero tolerance on environmental cleanliness to avert the numerous problems related to environmental mismanagement.
Speaking earlier on behalf of the combined forces stationed at the Sabi border post in URR, a senior customs officer, Modou Tamba, thanked the government and the NEA for their foresight and commitment in averting serious environmental hazards by banning the use, sale, and consumption of plastic bags.
He added that as a legal requirement, they would never allow entry in this country of any plastic bags through the official borders.
Read Other Articles In Article (Archive)