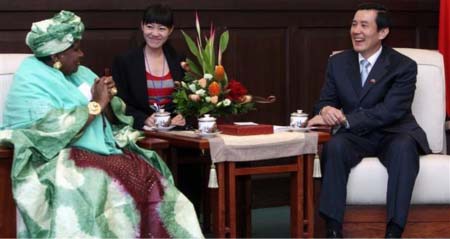 The Gambian Vice President Dr Aja Isatou Njie-Saidy has led a delegation to attend the 102nd ROC (Taiwan) National Day celebrations and to meet with the President of ROC, H.E. Ma Ying- jeou.
According to a press release issued by the ROC embassy in Banjul, during the visit, the Vice President attended the banquets hosted by Taiwan's Vice President H.E. Wu Den-yih, Minister of Foreign Affairs. Hon. David Y. L. Lin, and Deputy Minister of Health and Welfare Mr Shiu Ming-neng.
She and the delegation also met with Gambian students studying at National Taipei University of Technology (NTUT).
During her visit, H.E. Aja Dr Isatou Njie-Saidy also met with the Secretary General of Taiwan International Cooperation and Development Fund (ICDF), Mr Tao Wen-lung and the responsible authorities to discuss food safety and quality control in order to help the operation of the newly formed Food Safety and Quality Authority (FSQA) of The Gambia, which is responsible for the produce, import and export of quality food (e.g. groundnuts, seafood) and feed at national level.
In her capacity as the Minister of Women's Affairs, the Vice President also interacted with women leaders in Taiwan and invited them to the Pan-African Women's Affairs Conference in November this year which The Gambia will host.
The Embassy of ROC (Taiwan) expresses sincere gratitude and appreciation to the Government and people of The Gambia, especially to H.E. President Jammeh, for his strong support during the 68th United Nations (UN) Assembly this year for Taiwan's meaningful participation in the UN and other international organizations.
The ROC is an important ally of The Gambia and since the two allies resumed diplomatic relations in 1995, they have successfully undertaken many cooperation projects in different sectors.
It could be recalled that the VP's visit was at the invitation of the government of the Republic of China (Taiwan) and under the instruction of H.E. Sheikh Professor Alhaji Dr. Yahya A.J.J. Jammeh, President of the Republic of The Gambia, H.E. Aja Dr. Isatou Njie-Saidy, the Vice President led a delegation to visit Taipei from 6 to 11 October 2013, it concludes.
Read Other Articles In Article (Archive)