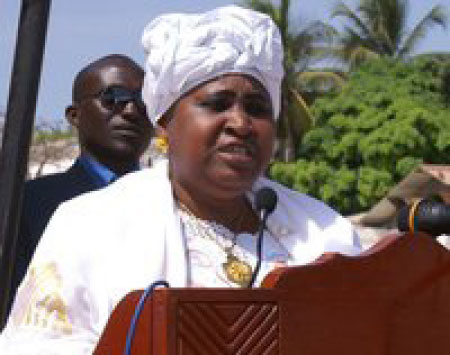 The Vice-President and Minister of Women's Affairs, Dr Isatou Njie Saidy, recently launched the West African Young Female Leaders Network Gambia Chapter.
The national launching, held at the Paradise Suites Hotel in Kololi, was also attended by senior government officials and women leaders.
The Gambian vice president said she was delighted to be given the opportunity to launch the network, an initiative of the ECOWAS Gender Development Centre (EGDC).
She noted that the significance of this initiative cannot be over-emphasised, for it involves a very important segment of society who are the young women. "I am informed that this launching event was preceded by a three-day leadership training for young women leaders," she said.
Recognizing the critical role that the youth have to play in the socio-economic development of the country the government has put in place several mechanisms that are designed to address the issue of youth, the vice president says.
A National Youth Policy and POA 2009- 2018, which is a follow-up to the 1999-2008 Youth Policy and POA, had been developed, she said.
Madam Saidy said the National Youth Policy 2009-2018 is a blueprint for Gambian youth that will engage them in serious manner into national development, seeking to empower them through participation and mentoring.
"It provides the Ministry of Youth and Sports and its partners the needed support and guidance to take care of youth issues in The Gambia," she added. "The policy framework for the National Youth Policy harmonizes the different interventions and provides a more concerted strategy on youth issues, this in turn will ensure that all the actors understand youth issues and work towards a common approach."
VP Njie-Saidy noted that the EGDC has served as a catalyst in bringing young people together so they could harness their energies and intellects to be the change that Africa needs.
Madam Aminatta Dibba, Director of the EGDC, seized the opportunity to express her appreciation and heartfelt gratitude to President Jammeh, Vice President Njie-Saidy and the Gambian people for the warm welcome accorded them.
Madam Dibba says the EGDC is proud to be associated with the event of launching of the Gambian Chapter of the Network of Young Female Leaders of West Africa.
She added that the launching of the Gambian Chapter of the Network "is very timely and relevant for several reasons as it epitomizes several years of struggle to get women to emerge as leaders".
She added: "The formation of this Network of young women leaders of west Africa is most encouraging as it shows that young West African Women are determined to forge ahead and correct the imbalance between men and women in the decision-making processes." 
Read Other Articles In Article (Archive)