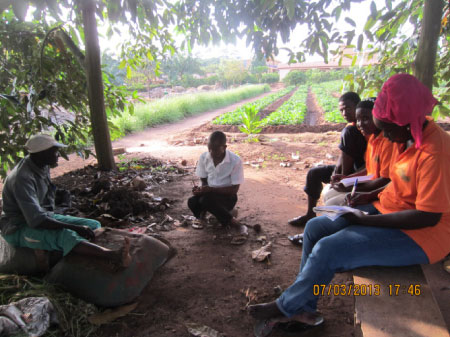 In their quest to expose Gambian youth to training opportunities, the Livestock and Horticulture Development Project (LHDP), an International Fund for Agricultural Development (IFAD) ongoing project in The Gambia with co-financing from the African Development Bank (AfDB) sent eight Gambian youth to Songhai, Benin, to attend two months training programme in livestock and horticulture enterprise development.
The eight youth that benefitted from the training programme were selected across the country, namely Istook Dibber and Temba Jammeh, both from Iliac village, North Bank Region, Jewry Susa of Dan uGu village, Upper River Region, Lamina K. Drammen Santander village, Lower River Region, Bubacarr Sonko Seyone village, West Coast Region, Joseph Manga Serrekunda, Kanifing Municipality, Fatou Fatty Dobong Kunda village, Central River Region South and Alhagie Joof Kerr Ardo, North Bank Region.
In an interview with one of the beneficiaries, Isatou Dibba, at LDHP conference room in Abuko, said they are sent to Songhai Training Centre to acquire new knowledge for the benefit of the local communities in The Gambia.
The training programme at the centre, Dibba explained, started with adopting a participatory and interactive approach, such as a discovery tour in the training centre, led by Mr. Razak Chief Interpreter of Songhai Training Centre, who gave them background information about the training centre.
On the 31st January 2013, they were deployed on their areas of specialisation. "I [Isatou Dibba], Fatou Fatty, Jewuru Suso specialised on vegetable production and food processing, while others have their own areas of specialisation."
Dibba, who is the Secretary-General of the Women Gardening Kafoo, ably represented Illiassa Kanilai Women Garden Kafoo, said the group focuses on vegetable production since its formation in 2005.
Her group, she added, has a membership of over three hundred members which also comprises few males.
LHDP aims to help small-scale rural producers, who are mainly women, to increase their incomes by improving the yield and quality of their horticulture and livestock products, she added.
The objective of the training, among others, she said, was to build their capacities as young people to enable them take meaningful activities in their communities.
According to her, the lecture sessions provided participants with the opportunities to compare their own situations to those being heard in the session and help them to adjust and improve, as well as apply the new knowledge in their local communities.
With the new knowledge gained, Dibba said, she could now make mango syrup which is not common in the country. 'If I have support, I can now process my own mango juice syrup and sell it, because in The Gambia we are only processing two mango juice, but not mango juice syrup,' she said.
She called on projects coordinators and directors to continue supporting Gambian youth, saying that if young people are given the necessary support, they can transform their dreams into realities.
She thanked LHDP for supporting their participation in the training, as he called on youth to acquire skills.
Songhai Training Centre is accredited by the United Nations and is extending its work beyond Benin.
Every year, the training centre welcomes 150 or so youth from different parts of Africa, including The Gambia who are trained at the training centre.
Read Other Articles In Article (Archive)